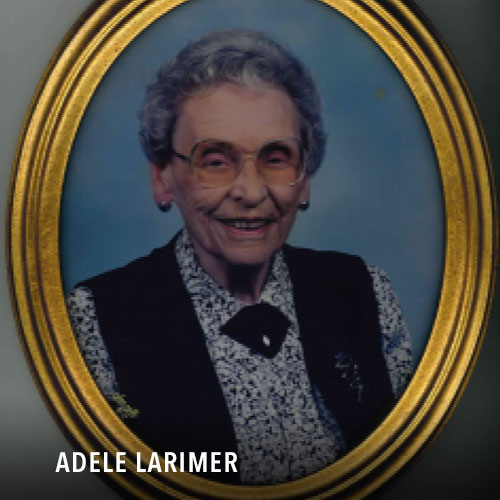 ADELE LARIMER
1915-2000
EARLY RESIDENTS DIVISION 2022
Adele Larimer was born March 24, 1915 in Chicago, Illinois to Jock and Marge Rigoni. She was raised in the downtown area of Chicago and graduated high school at the age of 16. When she graduated she was given a brand new 1931 Ford. In those days you needed a license to drive. They were available at the local drugstore. She was also offered a
fishing license at the same time, but history is unclear whether she accepted the offer.
After high school, she went to business college, which was the name in those days for secretarial school. She worked and or volunteered all her life beginning with a variety of jobs in downtown Chicago. The most memorable to her was at the Tea Room of Carson Pirie Scott department store. She was a cashier there. In 1937 she met Richard Larimer who was a machinist working at
Western Electric, the manufacturing arm of A.T. &T. They were married about three months after they met on December 31, 1937. They continued to work and live in Chicago until 1940 when they moved to Vista where his mother was already living. They moved because he liked to travel and his arthritic condition was made worse by the climate in Chicago. They decided to stay in
Vista.
He got a job as a machinist for Consolidated in San Diego. While in Vista, Adele worked as an office manager for Sam Brockman, who was a realtor and grove manager. One of her duties was to drive his wife to Los Angeles to shop at Bullock's Department Store, the main store at the time in Southern California. They would then have lunch at Clifton's Cafeteria and drive back. It took several hours on the two lane roads each way. They lived in a duplex in the area now known as the Townsite. They shared a bathroom with the other half of the duplex. Adele had her first experience with a cow there. One morning, when she was preparing breakfast around 5 a.m. there was a knock on the door. When she opened it she was face-to-face with a cow that came from across Santa Fe Avenue. She said that was the first time she'd actually seen a cow close up.
Richard and Adele enjoyed living in Vista but returned to Chicago because of World War II for the duration of the war. Richard had suffered from rheumatic fever as a child and had a heart condition that prevented him from serving in the military. Because of that, Adele gave up her intention of joining the Navy. Richard returned to his job at Western Electric, and Adele worked there also. After the war they returned to Vista where Richard resumed his job at Consolidated and Adele worked for Hilton Cleaners at their office in the First National Bank building.
After an injury where he lost part of his finger, Richard quit being a machinist, a job that he did not enjoy and went to work for Hilton Cleaners as a driver who picked up and
delivered laundry. He also drove the truck in parades in Oceanside where the main office of Hilton Cleaners was located. Later he did the same job for the laundry at Camp Pendleton
from 1955 to 1960.
They lived at the corner of Foothill Drive and Beverly Drive renting a house from the owner of an avocado grove on a hill next to their home. The owner's home was on the top of the hill. Because of the hill, they named the two children they had while living there, Jack and Jill. Also, because there were no addresses, when they registered at different times to vote
in 1946, they were put in different precincts. Now that they had children, Adele stopped working for a while to take care of the children. They moved around living on Mason
Road for a while and finally buying a home on Manor Drive. During this time, Adele volunteered for the Cub Scouts becoming a den mother for her son's den. When he was forced to leave scouts, to fulfill her commitment she stayed for an additional year. She also did other volunteer work in support of her children including the brownies for Jill.
In about 1957, Adele went back to work to pay for Jill's piano lessons which she took from Mrs. Tunnel on Monte Vista Drive. For a while, Adele worked for the Medlin Brothers, a pair of doctors on South Santa Fe where she did office work. Later Adele worked for the Vista Unified School District first starting in the cafeteria at Lincoln Junior High School and remaining
friends with people she met there for the rest of her life. Chief among them was a lady named Mary Rojas.
Richard and Adele loved to dance and joined the dance club known as the Saturnalians. This group made up mostly of teachers, held a dance once a month at the Palomar Rider's club house at East Bobier Drive and North Santa Fe Avenue. In August 1960, they moved to a house they had built at 1648 Foothill Drive. Six weeks later Richard died of his heart condition. During this time, Jill joined the Palomar Riders with her Palomino horse named Pal. Adele volunteered for the Palomar Riders including pulling horse trailers to their events.
After the death of her husband, she took a job as attendance clerk at Lincoln Junior High School. There she met Betty Clopine who was the secretary to the principal Paul Brostrum at the time. They became best friends. Mrs. Clopine had a second job teaching cotillion at the Woman's Club on the Community Church circle. When Betty retired Adele took her job as the principal's secretary. She had this job until she retired in 1980. Her last principal was Dudley Hancher.
Beginning in 1960, Adele started volunteering for the Tri-City Hospital auxiliary known as the Pink Ladies. At first, because she was working, she volunteered as a receptionist. Then on Friday evenings, she volunteered in the emergency room where she was known for cleaning up bloody messes. Later she also volunteered in Tumor Registry. This included checking obituaries in local newspaper to see if the hospital's former cancer patients had died.
She volunteered for the hospital for about 40 years. In her 80's, when she was no longer able to drive, she walked a mile to get a bus to get to the hospital to volunteer. She also served on
the auxiliary's board of directors and helped put on their annual strawberry festivals. She also volunteered in the office of the Community Church of Vista and as a docent at the first
Vista Historical Museum. She also drove her friends around to their appointments and on their errands when they were no longer able to drive. She increased her volunteering after she
retired. Also, after she retired, Adele and Betty traveled to Ireland as part of the Belleek Society. They also went hang gliding in Mexico and other trips and to Padre Games. She died
from lung cancer at her home at age 85 in May 2000.