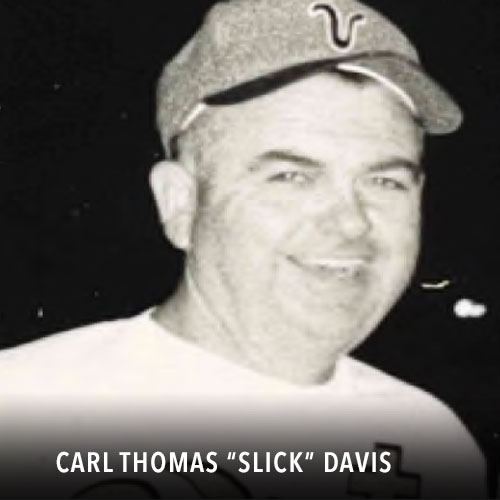 CARL THOMAS "SLICK" DAVIS
1928-1982
EARLY RESIDENTS DIVISION 2022
Carl Thomas "Slick" Davis was born on March 1, 1928, in Taft, California. At age nine, in 1937, his family moved to Vista, California, where he attended elementary and junior high school. During his Vista High School athletic career, "Slick" lettered in varsity football, varsity basketball, and varsity fast-pitch softball. In 1943, as a 14-year-old sophomore, he quarterbacked the Vista Panthers to an undefeated football season for Coach O.K. "Bub" Williamson.
In 1945, he set the high school basketball scoring record for San Diego County. From 1941-1945, he was the pitcher for the Vista High School softball team. (During the war years, high schools in San Diego County played fast pitch softball instead of baseball.) After graduating from Vista High School in 1945, he played basketball at the Oceanside-Carlsbad Junior College. He was a veteran of the Korean war, serving as a U.S. Army Military Police (M.P.) stationed in South Korea. In 1954, "Slick" was one of the original founders of the Vista National Little League. In 1955, he was a founding member of the Vista Pony League where he also coached the 20-30 Team with his longtime friend, John Oakley (another Vista legend).
In 1954, he was co-owner of Slick 'n Spicy's Liquor Store located at 505 So. Santa Fe, Vista, California. Then, in 1955, he moved to 333 So. Santa Fe, and opened Slick's Liquor which he owned until 1981 (building and business name still there today!) He also owned Sal's Liquor, Buena Vista Liquor, Emerald Spirits, Mike's in Oceanside, and Slick's in Mira Mesa. In 1974, "Slick" was co-owner (with Ron Piva) of the Vista Roofers' Fast-pitch Softball Team that played in the Western Softball Conference. In 1976, he formed the Vista Bombers Fast-pitch Softball Team, and participated in the American Softball Association's nationals in Allentown, Pennsylvania.
In 1977, "Slick" took the Vista Bombers to Phoenix, Arizona, for the International Softball Congress World Tournament where they finished in fourth place. The Vista Bombers Fast-pitch Softball Team also represented the City of Vista in tournaments in Hawaii and Canada. In 1983, the City of Vista named one of the ball fields at Breeze Hill Park the "Slick" Davis Field. In 1987, "Slick" was selected to be the recipient of that year's Vista High School "V" award.