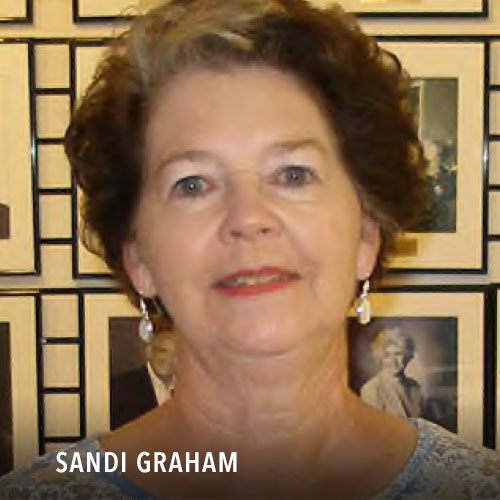 SANDI GRAHAM
REGULAR DIVISION 2022
I was born in Oceanside at a hospital located on a hillside many years before Tri-City Hospital was even thought of and there was a 2 lane road between Vista and Oceanside. My mother graduated from Oceanside High School, was Miss Vista in 1929 and married my dad in 1933. I was their first child coming along in 1938 and my brother 3 years later. Working in the family's drugstore (McDougall's Pharmacy) during my high school years is one of my fondest memories. I graduated from Vista High School in 1956, and attended Palomar College for 2
years.
I met my future husband at a wedding where he was the groom's best friend. He taught school at Lincoln Middle School. We got married in 1964, and had our only child, a daughter, in 1972. Unfortunately the marriage ended in 1985. After various jobs in local Dentist/Doctor's offices as a Secretary I was lucky enough to find a job with Vista Unified School District as a secretary and eventually became an Administrative Assistant at California Avenue School which is a school for the handicapped children. I retired in 2002. After retirement I became restless and needed something to do so I started volunteering for various organizations starting with the Social Committee at Vista Del Mar where I live, which is a retirement complex on Breeze Hill off of Pomelo. I am a member of the PEO Chapter in Vista, taking after my mother and grandmother. I continue to be a member for many years of the Triple M Club (which my mother and other ladies started back in the 1920s}. Our goal is to raise funds for scholarships for high school students.
I became a Moonlight Angel for the Moonlight Amphitheatre volunteering during the shows as an usher and "ticket writer" which I am still doing. I was just awarded the "Star of the Year" last year for my 20 years as a volunteer. This turned out to be my absolute favorite thing to do!!!! How could you NOT love the Moonlight? I also have been a member of the
Vista Historical Society for at least 28 years which includes 18 years as the Membership Chairman. One of my favorite things to do is look at pictures of "Old" Vista and reminiscing about life here in Vista. One of the other "fun" things I did as a volunteer was driving a golf cart that was used to pick up seniors at their cars at the Senior Center when they came in for lunch, then taking them back to their cars. What made this especially fun was "working" with my good friend Norm Halus. Wonderful memories.
As you can see volunteering has been a big part of my life. I guess you can say mom and dad had taught me that it is one of the most gratifying things you can do.