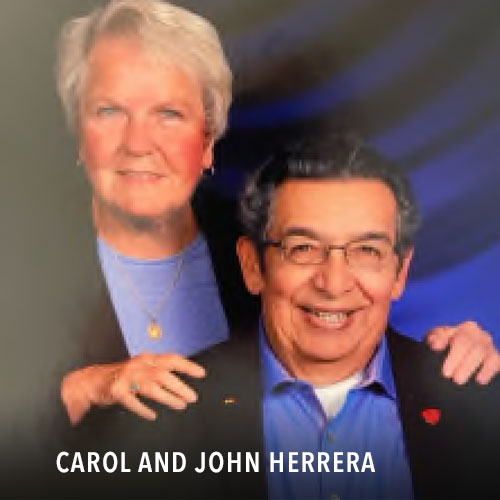 JOHN A. AND CAROL WEISE HERRERA
REGULAR DIVISION 2022
JOHN HERRERA
John Herrera's call to service began at the age of 9. He and his siblings worked after school to help support the household. At 14 he enlisted in the Texas National Guard unit, which his father had served with during WW II and after his 2 older, and 1 younger brother also served. At age 17 he enlisted in the U.S. Navy and retired after over 21 years having served on 3 ships, numerous shore installations and as Senior Corpsman with a Marine Infantry Company in The Republic of Vietnam. Among his ribbons are The Presidential Unit Citation, The Combat Action Ribbon and The Vietnamese Cross of Gallantry. In 1968 the Department of the Navy implemented The Associate Degree Completion Program for Navy members to obtain a higher education. John was in the first group selected to attend Palomar College in San Marcos and relocated his residence to Vista. After beginning classes he accepted an invitation from the Vista Jr. Chamber of Commerce (JAYCEES) to be a Board member. Much later he attained a BA and MBA from National University in Vista.
He did Doctoral studies at United States International University in San Diego. After leaving the Navy John worked for The Internal Revenue Service, U.S. Customs Service, and taught for the Adult Education Program for Mira Costa College, The State of California, as well as other employers. He is married, the father of 3 sons and a daughter, and has lived in Vista for over forty years. He is committed to community service. John continues the quest for social justice and is a tireless advocate for local students. He and Carol raised funds for Vista High School Show Cats and helped tailor costumes for student competitive events. He is past member of National League of United Latin American Citizens committed to assimilation into American mainstream; Hispanic American for Progress devoted to encourage students to remain in school and aspire to higher education; supporting and obtaining Mariachi instruments for The Vista High School student Club; President Shadowridge Rotary Club, 2004; Mayor Morris Vance advisory committee member to liaison between Latino community and Sheriff's Department to create positive interaction; founding member of Vista Education Foundation to support the arts, scholarships, and technology; founding member Encuentros Leadership to support boys to achieve optimal education performance; member of American GI Forum; Veterans of Foreign Wars; Disabled American Veterans; Third Marine Division Association; recipient "San Diego Latino Champion Veteran of the Year, 2014, Award" from The San Diego Union Tribune; recognized with "El Rookie Award" for noteworthy service to Mariachi Youth Programs and Youth Services, 2018-2019, Rotary year by The Route 78 Rotary Club.
John moves about the community in a quiet, unassuming manner, but when critical needs must be addressed, he is prompt in volunteering his service leadership. That may be why he has been selected by the City and the Federal Government to participate in committees to diffuse difficult situations. His presence is seen and felt throughout the community as he goes about making a difference in the lives of those with whom he comes in contact. Through his demonstrated leadership, John has contributed significantly to the quality of life of our hometown Vista.
CAROL WEISE HERRERA
Carol Weise Herrera was born and raised near Duncansville, Pennsylvania in a region designated by the railroad industry as, FOOT OF TEN, which designates a unit of measure for rail distance. She is 1 of 8 children. Carol earned a Bachelor of Science Degree in elementary and high school education from The College of Misericordia a small Catholic school outside of Wilkes Barre. She received a Masters Degree in the teaching of reading from Scranton University a Jesuit school. After relocating to California she received an Administrative Credential from San Diego State University.
Carol has taught every elementary grade in private and public schools, gifted and talented students, as well as college classes. She was principal of an elementary school in a district neighboring Vista Unified School District for 16 years. The school was recognized by the State of California as a winner of a Distinguished School award. The school was also designated a top performing school by the State. She was hired by the Army Navy Academy, adult Division, in the 1970's to establish/lead a testing-reading program for enlisted Marines and their dependents at
Camp Pendleton/El Toro Marine Corps bases and at Mira Mar Naval Air Station. The program a part of the GI bill was designed to assist military personnel and their dependents to complete their high school degree requirements. Carol has been recognized as a Teacher of the Year recipient by the San Diego Reading Association award, consultant for McGraw Hill Publishing Company and a Western Association of Schools and Colleges evaluator. She served on the Vista Unified School District board of Trustees for 16 years. The experience prepared Carol for the next phase of her Vista community involvement. As a school board member in Vista she was a vote for increasing the student instructional program by 2 days. As a board member Carol often encountered students who needed shelter, clothing and medical services. Her position as a 5-year board member of Solution for Change and a 3-year board member of the Assistance League gave her insights into available services for families. Carol was a 12-year member of the Tri-City Hospital Advisory Board. She was a founding member of the Vista Education Foundation and recipient of their Lifetime Achievement Award.
Carol has been a member of Sunrise Vista Kiwanis for 20 years. She implemented the BRINGING UP GRADES PROGRAM (BUG) in which students are rewarded for working to improve their reading skills and grades in school. In the past 20-years 18,000 awards have been presented to Vista students. The program continues to this day. Carol initiated a reading program for the Boys and Girls Club. She led a team of Kiwanians to the Club during the pandemic to read individually with a group of children and help them with their reading. This weekly program is very successful. It is on hold due to covid.