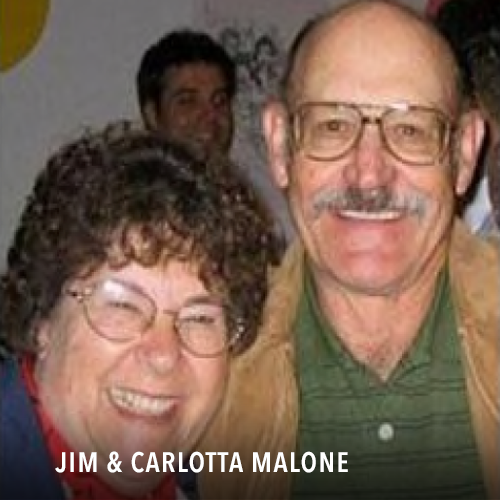 JIM & CARLOTTA MALONE
REGULAR DIVISION 2020

My dad, Jim, started teaching at Vista High School in 1971. He was the swimming and water polo coach and taught history, government, economics, and I believe French for a short while.
He moved over to Rancho Buena Vista when it first opened in 1987 and continued to teach senior government, economics, and coach swimming and water polo. He also coached an age group swim team for the better part of 15 years outside of school. He retired from full-time teaching in 1998... but continued to teach a ROTC class and mentor young stagecrafters (sound, lighting, scenery).
He started volunteering at the Moonlight in its second season in 1982... doing whatever they needed as a handyman. Eventually he was a regular employee of the Moonlight as head carpenter building scenery for the shows. To this day he still helps the shows out over at Rancho. He also was inducted into the San Diego coaches hall of fame and his picture is up in the hall of fame museum in Balboa Park!
My mom was a substitute teacher through the mid 70's and 80's. She coached the girls Vista High swim team and diving for a number of years at my dad's side. She became a full time fourth grade teacher at Monte Vista Elementary in 1987. She retired in 2004.
She volunteered for Moonlight its first year in 1981. My sister and I were cast in Oliver and mom was such a great seamstress she offered to help with the sewing. Eventually she was the go-to costumer for the Moonlight.
I joke with my friends out in the industry telling them that my folks only volunteered because we were in the shows... and now they work more than I do... but there's a whole lot of truth to that.