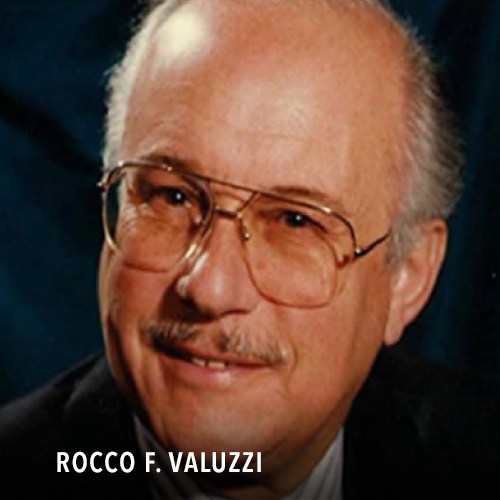 ROCCO F. VALLUZZI
REGULAR DIVISION 2018

1938-2006
Rocco F. Valluzzi was born and raised in Brooklyn, NY. He joined the USMC out of college and was stationed at NAS Pensacola, Florida for flight training where he earned his wings. During his thirty year career in the Marines, he earned:
Silver Star—awarded for gallantry in action, Vietnam
Distinguished Flying Cross with 3 stars, each star is equal to 4 awards—for heroic achievement involving flying in combat
Defense Meritorious Service—awarded for service at CINAC in Hawaii
Air Medal W/V and # 85—awarded for achievement inflight. "V" is while in combat. The #85 is the number of times it was awarded; one medal was equal to 20 combat missions. Therefore 85 awards totaled more than 1700 missions during his 2 tours in Vietnam.
Navy/Marine Corps Commendation W/V awarded for service, the "V' indicates service was in combat.
Purple Heart with one star—awarded for wounds received while in combat. The gold star National Defense Service—awarded for services to all who are on active duty during a prescribed calendar date indicated second award.
Vietnam Service—awarded for service in Vietnam by the US government. Stars indicate campaigns during which service occurred, based on specific dates.
Vietnamese Campaign—awarded for service in Vietnam by the Vietnamese government. The date bar 1960 is incomplete because the government of South Vietnam is no longer in existence.
He flew helicopters, transitioned into OV10S and served as commanding officer of the squadron until he was transferred to CINPAC West in Hawaii. It was during his shift that Russia shot down a Korean 747 air liner. While in Okinawa he transitioned into the executive jet, flying around Japan and Korea.
Upon retirement, Rocco and his family settled in Vista, at which time he joined the Amigos de Vista Lions Club. He served in several positions as well as president. He then became involved in various city actives.
While attending Saint Mark's Catholic Church, he served the community as a Eucharist Minister. The homebound as well as the mass community benefitted from his time.
When he was young, the house he lived in did not have a yard or garden so moving into their home in Vista opened a whole new window of his life. He discovered gardening, which led to the Vista Botanical Garden in Brengle Terrace Park. Besides working in the garden, he held the office of president, guiding the garden through development.
His life in Vista led to public office where he served one term as a city councilman. Being an advocate for the citizens made his work all the more enjoyable.