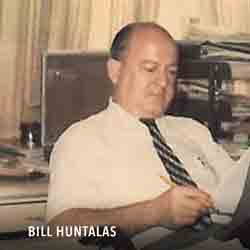 BILL HUNTALAS
EARLY RESIDENTS 2019

1917-1998
Bill Huntalas was born in 1917 in Tehachapi, CA to Nick and Bessie Huntalas. Nick Huntalas had purchased the land around the current Rancho Minerva ranch in Vista, CA, in 1911 but at the time of Bill's birth he was still working as a railroad laborer in the Tehachapi area. Later in 1917 Nick, Bessie and their young son Bill moved to Vista to begin their life on Rancho Minerva.
Bill grew up in the family's original farmhouse alongside Foothill Drive in Vista and attended the first schools established in the Oceanside area. As a teenager, Bill helped his father make the adobe bricks that were used to construct the current Rancho Minerva Adobe residence. He also designed and built the large water fountain structure behind the adobe.
As a high school student, Bill excelled in track and field events winning the Southern California CIF high school 100 yard dash championship with a then record time of 9.8 seconds. This record set in 1937 stood for over ten years.
Bill then attended the University of California at Berkeley graduating with a B.S. degree in engineering, specializing in metallurgy. He was hired directly out of college in 1942 along with most of his graduating engineering class by the Alcoa Aluminum Company to support the war effort.
After five years at Alcoa Bill founded his own company, Felton Aluminum Company based in Felton, California. He later moved his company to Santa Clara, CA where he built a large aluminum foundry specializing in sand cast aluminum products for irrigation systems, defense products and other consumer goods. Felton Aluminum became known as a world leader in specialty aluminum products with customers spanning across the globe.
Bill was recognized throughout the industry as a specialist in the design and manufacturing of aluminum cast products. He served as President of Felton Aluminum for more than forty five years. Bill died on March 29, 1998 at the age of 80.