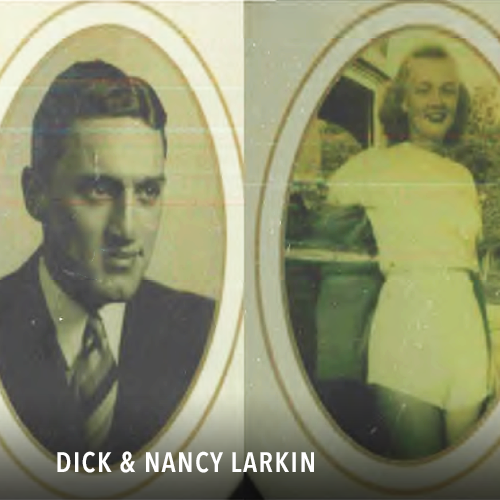 DICK & NANCY LARKIN
EARLY RESIDENTS 2020

Bainbridge Morse Larkin
1917-1982
Nancy Jane Cooper Larkin
1916-1986
Dick and Nancy Larkin moved to Vista in the spring of 1949 with their three children: David, Janet and Daniel. Nancy was with child to be born in August.
Historical Background
Bainbridge Morse Larkin, DMD ("Dick Larkin") was born in Georgetown Massachusetts on April 16, 1917. Georgetown was a small town in northeastern Massachusetts, incorporated in 1838. The house in which Dick grew up (an American arts and crafts Bungalow) was built by Dick's parents, Greta Morse and Richard Larkin in 1915. The Bungalow has been completely restored by Dick's niece, Louise Ann Richardson, and is registered with the Massachusetts Historical Commission as the Larkin ó Morse óRichardson House. Parenthetically, the Bungalow has always been in a woman's name, but that's another story.
Dick graduated from Haverhill High School where he was on the football and baseball teams. Dick also played trombone in the high school orchestra. At age 16 "Dick won a trip to Europe playing" I'm Getting Sentimental Over You" ( Tommy Dorsey's theme song) in a local talent contest. During his high school years Dick played trombone in the Haverhill DeMolay band, directed by Howard Rowell, a cornetists with the John Philip Sousa band.
Nancy Jane Cooper Larkin ("Nancy Larkin') was born in Bellaire, Ohio on December 16, 1916. Nancy's father, Kenneth G. Cooper, was a lawyer and an active member of the Presbyterian Church in Bellaire. Nancy's mother, Florence Long Cooper, was an Ohio State graduate and very active in civic affairs in Bellaire. Florence was responsible for starting the Girl Scouts in the state of Ohio.
Nancy was very active in clubs at Bellaire High School. Outside of high school Nancy assisted her mother with the civic activities in Bellaire and was involved with youth activities at the Bellaire Presbyterian Church. Nancy graduated valedictorian of her high school class.
Dick and Nancy met at Swarthmore College in Pennsylvania. Dick majored in economics. Nancy majored in sociology. Nancy was invited into Phi Beta Kappa and graduated Cum laude. After graduation from Swarthmore, Dick went to work for North Western Mutual Life Insurance and was sent to Hartford, Connecticut. Nancy returned to Ohio and became a social worker in a tough section of Columbus where she had to carry a gun for protection.
Because Dick and Nancy had been sweethearts at Swarthmore, they decided that a long distance romance was less than desirable; thus they were married at the Presbyterian Church in Bellaire, Ohio on December 30, 1939. Nancy moved to Connecticut where they lived until Dick decided he wanted to become a dentist. In the fall of 1940 Dick entered the dental program at Tufts University in Boston, Massachusetts.
Dick and Nancy had their first child, David Morse Larkin, on April 3, 1941.
December 7, 1941," a day in infamy", when the Japanese Imperial Navy attacked Pearl Harbor, brought about radical change in the United States. Tufts dental school was taken over by the U.S. Navy. The Navy accelerated the dental program to prepare dentists for active duty as soon as possible.
While completing Dental School Dick and Nancy had their second child, Janet Adams Larkin, on March 15, 1944. Dick graduated cum laude from Tufts. Due to his outstanding performance as a dental student, Tufts and the Navy requested Dick to teach younger dental students to help ready them for active duty. Thereafter, Dick was immediately stationed at Newport, Rhode Island. Nancy, David and Janet followed Dick to Newport where they lived in military housing. At night all buildings were blacked out.
The war ended in the summer of 1945 and Dick and David( then 4 1/2 years old) hopped in a 1941 Mercury Coupe and headed for California. Dick chose La Jolla as their destination. Nancy and Janet went to Bellaire, Ohio to live with Nancy's parents until Dick located the house.
Dick immediately began to practice dentistry, having taken over a retiring dentists practice. The office was well located on La Jolla Blvd. near Scripps Hospital and the Bishops School. Dick's dental practice rapidly grew and he remodeled the office to include a tropical garden and waterfall view from every operatory.
In La Jolla Dick and Nancy had their third child, Daniel Cooper Larkin, born on Leap Year Day, February 29, 1948. After three years in La Jolla, Dick and Nancy, being cognizant of the rapid growth in La Jolla and somewhat disenchanted with the number of La Jolla's overcast days, began a quest for a community with a slower pace and country environment. At that time Nancy was pregnant with their fourth child.
A New Home in Vista, California
Dick and Nancy moved to Vista in the spring of 1949 with their three children and one on the way. The couple was drawn to Vista for a variety of reasons. Vista was a quaint community with a population of approximately 5000. Vista had its own water source, thanks to the foresight of early pioneers of Vista in the 1920ís. The Vista schools were well organized. Vista's climate was the best in the world according to the Chamber of Commerce. At the time Vista was considered to be the avocado center for San Diego County.
Dick and Nancy bought a five bedroom, 2 1/2 bath home on 3 1/2 acres with approximately 1 1/2 acres of avocados for $25,000. The house was located at 639 Hillside Dr. which shared a common boundary with Charles and Mita Royer.
At the time Dick and Nancy moved into their new home, the avocados had not been picked. Calavo recommended the Grove be harvested immediately. Shortly thereafter Dick received a check for over $5000 for the crop. Dick was overjoyed and momentarily considered becoming an avocado farmer as opposed to practicing dentistry. Nancy squelched the idea very quickly.
Dick and Nancy had their fourth child, Bainbridge Morse Larkin, Jr., born August 19, 1949. Because Dick was busy setting up an office by converting an old house on Michigan Avenue across from the old Telephone Company and Richard D. Ring's Law office, he hired Sally Castillo deLeon to help Nancy with her new baby and setting up their new home. At the time Sally was just starting high school.
Dick and Nancy immediately became involved with the activities of Vista. Dick joined the Junior Chamber of Commerce and was a prime mover in the organization of the Vistacado days in the early 50ís. One year Dick volunteered to be the Chairman of the event. There was a beauty contest at the Avo theater and Jules Strombow professional wrestler crowned the Queen. The first division Marine Corps band played several concerts. Vistacado days brought the whole community of Vista together.
Dick also organized Vista's only band review with the help of Jimmy Jamison, the longtime chairman of the All Western Band Review held in Long Beach, California, an annual event in November of each year. Jamison arranged to have the same judges used in Long Beach to come to Vista to judge the participating bands. It was a spectacular event for those who enjoyed watching excellent high school bands march down the streets of Vista.
At or about the same time Dick was recalled into the Navy at the time of the Korean conflict. Fortunately, Dick was stationed at Camp Pendleton, so the family did not have to move or interrupt their lives after becoming settled into the flow of Vista.
In addition to raising a family of four, Nancy was active in several community groups, including the Community Church, Triple M, and Panhellenic, an organization of college sorority women. Nancy also helped with Janet's Brownie troop and Job's Daughters. Both Dick and Nancy were involved with their sons Cub Scouts, Boy Scouts, DeMolay and high school sports.
Having been born and raised in New England, Dick had a yearning for lakes and streams. Dick located 10 acres in Vista with a year-round stream and built a pond under the direction of the Soil Conservation Service. Lou Whitt, a longtime resident of Vista, excavated the pond. The family enjoyed fishing, swimming and picnicking at the pond in the early 50ís. When Dr. Larkin was released from Navy in 1954, the pond property was sold and the family moved to Massachusetts to attend to family members who were ailing.
The Larkins moved back to Vista in 1956. Dick set up a new dental office in the Rancho Buena Vista ("Adobe") owned by Dr. Walter and Anastasia E. Weil. Walter and Anastasia ('Doddles") and Dick and Nancy became good friends both socially and professionally. Dick and Walter planned the first medical offices which included Black's Pharmacy; across the street from the original Vista High School.
Dick and Nancy loved music and encouraged music especially in the schools. In or about 1957 Dick and Nancy formed the Vista Band Boosters organization. Dick used his military connections to bring members of the Marine Corps Band from Camp Pendleton to drill the Vista High School Band into an award winning unit.
Dr Larkin was asked to fill a vacancy on the Palomar College Board of Governors during its formative years. Dr. Larkin served from 1958 to 1961 on the Palomar College Board.
In 1960 Dick and Nancy purchased 10 acres on Mission Road approximately halfway between Bonsall and Fallbrook. The property had unique features in that two streams came together on the property. Dick and Nancy had always dreamed of having a family business in which all children could participate. Dick located an old barn in Temecula and disassembled it using the siding to build what was later called Valley Fort.
Valley Fort consisted of a general store which housed antiques brought from New England and a restaurant which served chicken, hot dogs and hamburgers, etc... The building was surrounded by a stockade made of cedar poles. The cedar poles came from Julian. At the time Valley Fort was open only on weekends and included Dixieland music and Western gun fighting, such as the "Shoot Out At The O.K. Corral".
The Fort was also open for private party events. The second year the Fort was open, two Vista High School teachers opened a summer camp and build a swimming pool on the property. Valley Fort was featured in an issue of Sunset magazine as a destination point of interest in San Diego County.
Dr. Larkin had a busy dental practice in Vista from 1949 until 1963. He became known as the"Gentle Dentist", and was always helpful to those in need of dental treatment, even on the weekend, regardless of their financial status.
In 1963 Dick had an opportunity to teach at Tufts Dental School and do graduate work in the area of prosthetics. After discussing the opportunity with Nancy, they decided to move back to Massachusetts taking the family with them.