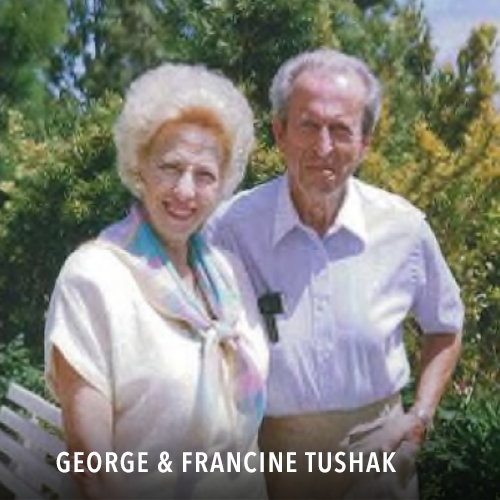 MR & MRS GEORGE TUSHAK
EARLY RESIDENTS 2018

George Tushak 1919-1993
Francine Tushak 1927-2013
Born in Vienna, Austria, George Tushak came to the United States in 1941, and to California in 1946. He served in the U.S. Army special intelligence unit as a Richie Boy and was awarded the Bronze Star with Oak Leaf Cluster.
For several years he owned and operated a large citrus and avocado grove in the Fallbrook area before moving with his wife Francine, and three daughters, to the Vista area in 1957. George devoted the rest of his working career in the real estate industry heading the George Tushak Corporation. He was one of the founders, and a past president of the North County Jewish Community Center, and one of the organizers of the Jewish Cemetery at Eternal Hills.
He was elected to the Vista Unified School District Board in 1967 and served as the Board president in 1969-'70. While serving as a member of the Board he promoted plans for the new High School on Bobier Drive.
George was a member of Toastmasters International and a sponsor of the North County Community Theatre.
Both George and Francine (1927-2013) were Life Members of the Vista Ranchos Historical Society.
Francine devoted herself to her three daughters while supporting George in all his endeavors. She was a dedicated Girl Scout leader and was active in the Western chapter of United Jewish Federation, hosting fund raisers at the Tushak Ranch. She also was an active member and supporter of Congregation Beth Shalom.