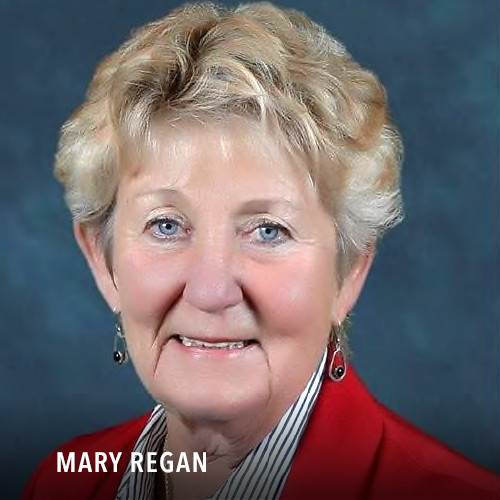 MARY REGAN
REGULAR DIVISION 2020

Mary is a long time Vista resident. She has been an outstanding volunteer for numerous non-profits. She is a leader, organizer, and worker bee. Mary was active in her children's schools and sports activities.
For over 30 years, Mary has been a dedicated and active member of Kiwanis Club of Sunrise Vista. She has served in leadership capacities including presidency. Kiwanis clubs focus on changing the world by serving children, one child and one community at a time. Among her many projects has been the Great Gatsby, which recent proceeds have gone to Operation Hope-Vista and the many homeless children that they serve. Mary has also been a strong supporter of the Boys & Girls Club of Vista, Women's Club, Chamber of Commerce, and others. She has also been a member of various city commissions and non profit organization's boards.
One of Mary's many achievements that benefitted the community, was her unwavering effort in 2005 to bring the San Diego Symphony Summer Pops to Vista. She headed a collaborative steering committee with Sunrise Kiwanis, Rotary, and the City. Meetings were conducted in San Diego with management of the symphony. There were many obstacles to overcome, but Mary always found a way to succeed in her quest. She would not take no for an answer.
Due to her unwavering hard work, the San Diego Symphony did perform at the Moonlight Amphitheater, not just once but annually for several years and as recently 2018. Mary's original idea was inspired by her yearly treks downtown to watch the Summer Pops shows. She brought her idea to fruition and was able to introduce the symphony to Vista families right in their backyard.
Mary has been a successful Vista business owner, and involved in the Real Estate Mortgage community in San Diego County for over 30 years. She is currently working with the senior population and their families to determine if a reverse mortgage is a suitable financial decision.
Mary follows the the C.S. Lewis adage, "You're never too old to set another goal or dream a new dream".