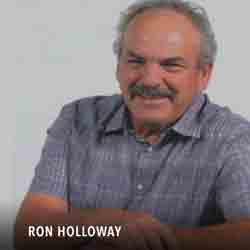 RON HOLLOWAY
REGULAR DIVISION 2020

Ron Holloway is a registered Civil Engineer and Senior Vice President in charge of the engineering division of BHA, Inc. a land planning, civil engineering and surveying firm he co-founded. Ron has over 40 years of experience in the civil engineering profession. Ron received a civil engineering degree from San Jose State University.
Ron has lived in Vista for many years. He is known for his work with Alta Vista Botanical Gardens. He began as a founding board member in 1999. He oversees the operation, maintenance and new construction of the facilities. He manages the board, employees and volunteers. He promotes events and works toward community involvement. He coordinates with the City with land planning and permits.
The garden concept was first promoted by an enthusiastic genius, Dr. Darien. Many projects have been completed by magical environmental artist, Bryan Morse. Ron Holloway's particular skill is in being the strong glue that continues to move the project forward and increase its visibility in the community and beyond. He does this with great energy, great cheerfulness, and committed professionalism.
He is active in community service and is a 30 year member of the Amigos de Vista Lions Club. He is a member of Vista's youth Basketball Advisory Board. He previously served on the Parks and Recreation Commission, the Traffic Commission and was Treasurer of the City Sales Tax Initiative.