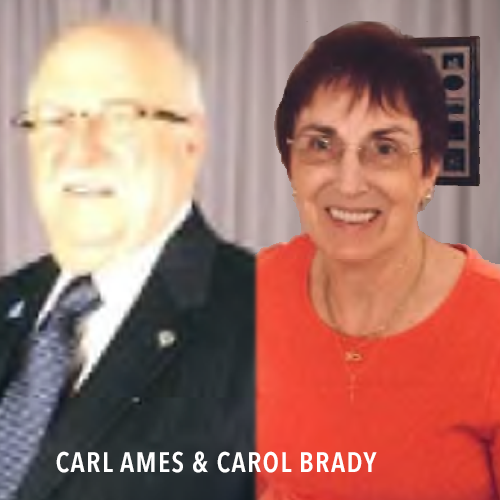 CARL & CAROL AMES
REGULAR DIVISION 2019

Carl and Carol met in Kiwanis. They have been very busy in the community through the Kiwanis Club of Sunrise. Carl has been a member for 35 years and served two separate terms as President. Carl was the Kiwanis Division 37 Lt Governor in 2014/15(over 18 clubs). He had been the Club Advisor for the Vista High Key Club for 10 years, brought back the fireworks to Vista his first term as President, and has served breakfast at Brother Benno's Soup Kitchen.
Carl was also Kiwanian of the Year two years in a row with the Kiwanis Club of Sunrise Vista. (2007 and 2008). He was captain of the Kiwanis Club team for several years for the Vista ROC project. The team included club members and Key Club members from Vista High School. Carl was a judge for two years for the Pride of Vista Beauty Pageant.
Carl and Carol came up with the idea of a wine and food tasting fundraiser for the Kiwanis Club which has evolved into the Grape Gatsby Affair. Along with a committee of 15 club mem≠bers, it grew into a 1920's theme fundraiser which the Club is celebrating its 11th year in April of this year and is the Kiwanis Club's major fundraiser.
Carl was also a Club Scout leader and Boys Scout leader at Beaumont School when his boys were little. He also received Have a Heart 4 Kids Award from the Boys and Girls Club in 2008. He was an Elder at Faith Lutheran Church.
Carl and Carol also take part in the 9/11 Commerative BBQ that is sponsored by Faith Lutheran Church each year. We work with Honor Flight of San Diego to get 4 WWII Veterans to be our guest and to honor them.
Carol has been President of the Kiwanis Club of Sunrise Vista for two terms (2011≠2013) and has been a member for 13 years. She was Kiwanian of the Year 2006/7 and 2008/9. Carol and Carl received the Have a Heart 4Kids Award from the Boys and Girls Club 2008. Carol has been active at Faith Lutheran Church in many different capacities for the 45 that years she has been a member. Carol was the Den Mother for the Cub Scout sponsored by Faith Lutheran Church when her son was small.
Working for Kids is a passion for Carl and Carol. The one closest to our heart is the StandUp for Kids drop in center in Oceanside which serves all the kids of North County. StandUp works to get the kids off the street. Carol was honored as a special donor last year. I was able to get StandUp For Kids Oceanside to be a Kiwanis Division 37 Project. We ask other clubs for sleeping bags, clothing, toiletries, bottled water and food items.
Carol has been a long time supporter of the Oceanside chapter of StandUp For Kids. She is an advocate and avid donor. She shines a constant spotlight on our program and the plight of our kids. She is a shoulder to lean on for the volunteers and always brings her support with a huge hug and a smile. She IS an angel.
We asked Carol how she became involved with StandUp For Kids, here's Carol's story:
I orginally got involved in Stand Up prior to 2007 because a friend asked me to donate hygiene products for the girls. Then in 2007, I got back to supporting Stand Up because I was better informed of the needs of the Kids. I got my Kiwanis Club of Sunrise Vista involved and our first donation at that time was a pickup truck load of clothes, water, food packs and personal hygiene items for both boys and girls.
I have never been homeless, but I can relate to the Kids needing what we take for granted living in a home. My family was poor when I was a child growing up. About 5 years ago, I started a tradition at Christmas time to donate a Ginger Bread House kit for the Kids so they could be doing something fun as if they were in a home environment. My husband, Carl, has been my big supporter. It breaks our heart when we are having bad weather or it is cold, knowing our Kids are out in the weather.
In 2008, I asked the Lt Governor for our Kiwanis Division 37 (who oversees 18 Kiwanis club) to make Stand Up For Kids Oceanside a Division Project and it has remained a Divisional Project todate. Our Kiwanis Club donates all the water... I put out pleas for water and my husband, Carl, and I deliver it to Stand Up along with any other items I have collected for the Kids. When the present location needed repairs to the patio where the kids eat their meals, we contacted a friend of ours and he donated materials and labor to make it comfortable.
Carl and I were honored to assist another Kiwanis Club in a past Thanksgiving by serving dinner to the Kids.