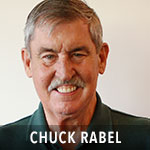 Chuck Rabel is retired, but you wouldn't know it. Recently honored at the Vista Chamber of Commerce and Vista Education Foundation Heroes of Vista Gala. As a Heroes of Vista Lifetime Achievement Honoree, Chuck has never backed down from a challenge, project or issue.
On his personal business card it says - Chuck Rabel, CSP, BPI. CSP stands for Common Sense Person and BPI stands for Born Politically Incorrect. His life has taken him to various locations both in and outside of the United States and in and out of Vista on several different occasions.
Chuck has been actively involved in a variety of civic/service groups in the Vista community:
Boys and Girls Club of Vista since 2001, Past Treasurer
Rotary Club of Shadowridge since 1999
High Noon Rotary Club, Community Projects Chair
Rotarians at Work
Vista Chamber of Commerce since 1997, Chairman from 2005-2006.
Vista American Legion.