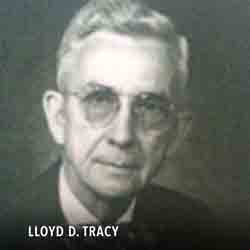 LLOYD D. TRACY
REGULAR DIVISION 1991

1921-2008
Lloyd Tracy and his wife, Rosalie, came to Vista from Anaheim in 1963 with their children, Barbara and David. He owned Vista Insurance Agency for many years and was active in civic and church affairs. He also served on the board of directors of the Vista Historical Society and was elected "Man of the Year" by the Vista Chamber of Commerce in 1977.
Tracy served during World War II with the 135th Infantry, 34th Division, in Italy, Ireland and North Africa. He earned a BBA degree from the School of Business Administration of the University of Minnesota and entered the insurance business in 1951.
A seven-year member of the City of Vista Planning Commission, Tracy was appointed to the City Council in 1973, elected in 1976, and served as mayor from 1976 to 1978. He was later again appointed to the City Council in 1986 to fill a vacancy.
He was a charter member and elder of Grace Presbyterian Church; a founding director and later chairman of the North San Diego County Transit Advisory Committee; a member and 1982 president of Community Development Associates; and a director of the Vista Foundation.
<