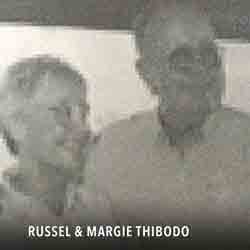 RUSS & MARGIE THIBODO
REGULAR DIVISION 1998

Russell Thibodo's family moved to Vista in 1942, when his father bought the Thibodo Ranch in what became Shadowridge. In later years, Russell sold most of the land for residential developments and an industrial park.
The couple donated acreage and a Spanish style homestead to the city for what is now tranquil, tree-shaded Thibodo Park.
Russell served on the Tri City Hospital board of directors for 10 years. The couple have been financial supporters of the YMCA, the 4-H Club, Vista Little League and the Boys Club of Vista. Marge is a founding member of the Vista Foundation, which supports Moonlight Amphitheater.