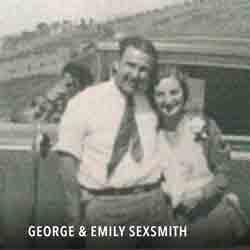 GEO. & EMILY SEXSMITH
EARLY RESIDENTS 2011
George Sexsmith 1908-1991
Emily Sexsmith 1911-2006
George Sexsmith was born in Sault Ste. Marie, Canada, and came to California in 1912. Before coming to Vista in 1929, he and his father Charles operated a market in Cardiff.
The same year that he and his father opened their market in Vista, George met his future wife, Emily Dippel. They married in 1932.
Sexsmith's Market, which was located at 538 South Santa Fe Ave. in the Granada Building, successfully operated from 1929-1958. It was the first market in Vista to sell frozen foods and canned baby foods, and to operate on the self-service principle.
George was a charter member, first secretary and fourth president of Vista Rotary Club and a Paul Harris Fellow of Rotary. He was a member of the Vista Volunteer Fire Department and, along with his wife, worked in Civil Defense during World War II as an aircraft observer.
He was a director and vice president of the Vista Chamber of Commerce and one of the first three members initiated into Vista Masonic Lodge #687 on May 7, 1945.
Throughout his life, George was known for both his photography and his poetry. Emily was actively involved in many civic groups, including PEO and the Woman's Club of Vista. She worked as a volunteer for the American Red Cross, the Heart and Cancer Associations and American Field Service. She was active in bringing music and art to Vista through such organizations as Hidden Valley Community Concerts.
As supporters of the American Field Service and visiting International Students Association sponsored by the Vista Rotary Club, and other foreign exchange student projects, George and Emily sponsored many international students. They were members of the Community Church of Vista and the Vista Historical Society.