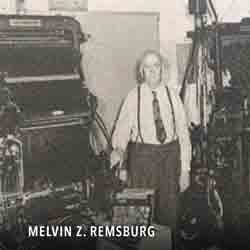 MELVIN Z. REMSBURG
EARLY RESIDENTS 2007
Melvin Remsburg 1876-1950
Everett Remsburg 1900-1972
Melvin Z. Remsburg was born in Montezuma, Iowa. The Remsburg family came to California from Iowa when Melvin was 15. Beginning in 1892, he held positions at several newspapers, including ownership interests. In 1926, he founded The Vista Press and remained there as editor and publisher the rest of his life.
The first issues of The Vista Press were printed in San Diego while a 16x32-foot building was constructed in Vista. This work was done by Mr. Remsburg himself with the aid of a carpenter. M.Z. Remsburg was a member of the Methodist Church for a time; later of the Presbyterian Church.
He was a member of the F&AM. He served three terms as president of the Vista Chamber of Commerce. He was president of the San Diego Unit of California Newspaper Publishers Association. In 1932 he was elected vice president of the San Diego County Development Federation. He was a well-known salon photographer, exhibiting many prints in the San Diego Museum of Fine Art.
He held memberships and honorary memberships in numerous lodges, clubs and associations. Everett M. Remsburg, son of Melvin, was a newspaper man for over 60 years, learning the business from his father. Everett served Vista in many capacities. He was the first chief of the Volunteer Fire De- partment; Chamber of Commerce president for nine years; and helped form the Boys' Club.
He was a member of Sigma Delta Chi, Scottish Rite Masons, a Shriner, member Elks Lodge, and also a de Molay "Dad." He was an honorary member of Vista Kiwanis Club, member of Lions Club, Optimist Club, Exchange Club, High 12, Jaycees, 60-Plus Club, PTA and others. He was a charter member of the Vista Historical Society, Inc.
Everett became publisher of The Vista Press in 1950 on the death of his father. He held rank as captain in the California State Guard, and at one time was Commander of the National Reserve Company of Vista. He served six terms as president of the San Diego County Unit of the California Newspaper Publishers Association, and one term as secretary.
.