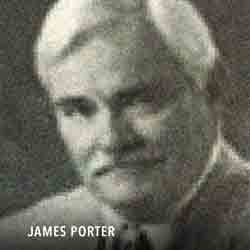 JAMES PORTER
REGULAR DIVISION 2004
1944-2011
James Porter was born in San Diego but spent most of his formative years in the Los Angeles area. He graduated from Whittier High School in 1962 and joined the Air Force. He later earned a degree in parks and recreation from Long Beach State College.
Prior to coming to Vista, he worked for the cities of Santa Fe Springs, Montebello, Imperial Beach, Pico Rivera and Alhambra. As director of the Vista Parks & Community Services Department, he was instrumental in the creation of Moonlight Amphitheatre musicals and the Wave Water Park. He retired in 2004.
He was a recipient of the California Recreation Society's Fellowship Hall of Fame award.