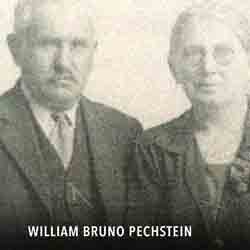 WILLIAM PECHSTEIN
EARLY RESIDENTS 2007

1866-1933
William Bruno Pechstein and his wife Anna immigrated to this country from Germany, William about 1879 and Anna later. Pechstein went to Wisconsin and then, in the early 1880s, came to California where he met Anna; they were married near Anaheim.
With their four children they came to visit from Los Angeles in 1910. All four children are native Californians. William was active in community affairs, I was Jules Delpy and Nick Huntalas worked hard to organize the Vista Irrigation District.
He was the first secretary-treasure of the district and was on the Board of Directors until his death in November, 1933. Anna pre-deceased him in June 1933. Their four children, William Otto, Ernest, Anna and Helen all lived in or near vista most of their lives.