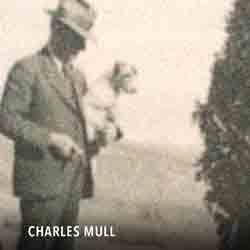 CHARLES MULL SR.
EARLY RESIDENTS 2007
1879-1945
Charles H. Mull Sr., was an early-day Vista Irrigation District engineer-manager. He also was prominent in real estate development. He developed Mull Estates, which today covers most of Anza Avenue and surrounding streets.
The old Mull homewas razed in 1982 to make way for an extensive subdivision. He was the first chairman of the Vista Community Association in 1938 and was active in building of the Vista Recreation Center on Recreation Drive.
He became Vista Irrigation District engineer in December 1936, succeeding Charles H. Bell and later was engineer-manager. Mull died in February 1945.