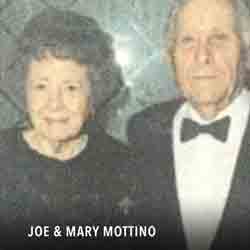 JOE & MARY MOTTINO
REGULAR DIVISION 2012
Joe Mottino 1925-1997
Mary Mottino 1916-2010
Joe Mottino was born in 1915 in Moorpark, California. His future wife, Mary Borra was born in 1916 in Los Angeles, California. Both families relocated to North San Diego County, the Mottino family to Vista, the Borra family to Escondido.
The Mottino's were farmers and the Borras opened the Borra Winery. Joe and Mary married in 1941,and lived in Vista. They had one daughter, Felinda. In 1944, they purchased a large tract of land in what is today Eastern Oceanside. There they ran a successful farming operation for many years.
They also owned and operated the Borra winery. Most of the land they farmed has since been developed as housing and commercial businesses.
The Mottino family is well known for participation in many local organizations and for their many philanthropic endeavors. The Joe and Mary Mottino family YMCA, built after Joe's death, is perhaps their largest donation.