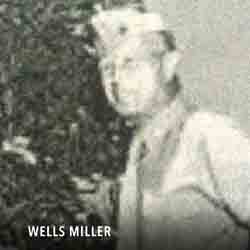 WELLS MILLER
EARLY RESIDENTS 2007

1896-1970
Colonel Wells Miller was born in Riverside, Illinois, and grew up there in Evanston. In World War I, he served in the Marine Corps, leaving with the rank of first lieutenant. He spent a year in South America mining for emeralds and then engaged in a variety of business activities in the Chicago area.
He was called to active-duty a year before Pearl Harbor. From then until 1946, he served with the Marines and retired as a colonel. During the war, he served in the South Pacific. In 1946, he completed his active-duty Camp Pendleton and with his wife Alice and son Read moved to ranch property in Vista. A second son, Calvin, was born in Vista.
After his retirement, Miller devoted his efforts to agricultural and civic activities. He was active in introducing the cultivation of macadamia nuts in California. In 1954, the California Macadamia Society was formed and he was its first president.
He continued in office until his death on February 12, 1970. He served on the board of the Bueno Colorado Water District, Agua Buena Soil Conservation District, and Vista Fire Protection District. He was active in the Rotary Club, Community Church of Vista, and the Boy Scout movement. He was also one of the organizers of the Boys' Club of Vista.