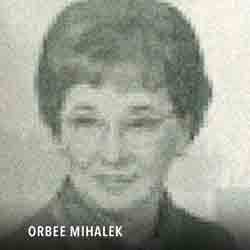 ORBEE MIHALEK
REGULAR DIVISION 1995

1913-2006
Orbee Mihalek was one of Vista's most avid boosters. She was born in San Diego County and her family moved here in 1939. She helped charter the Soroptimist Club of Vista and ran the Tot Lot, a nursery and kindergarten school, and was a successful businesswoman.
In 1964, she was the first woman elected to Vista City Council and served on the Council for the ensuing 12 years; she was mayor from 1970-72.
She was named Volunteer of the Year in 1981 and Women of Dedication in 2005 for her work as a member of the Salvation Army Board, and was a member of the Greater San Luis Rey Planning and Development Council, Women's Club of Vista, Country Dames, Country Friends, Emblem Club and American Red Cross and was a past president of the Vista Chamber of Commerce and the Tri-City Hospital foundation board."