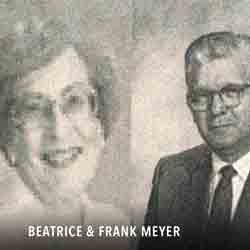 FRANK & BEE MEYER
EARLY RESIDENTS 2009
Frank Meyer 1912-1979
Beatrice Meyer 1911-2007
Frank and Bee Mayer came to Vista from Portland, Oregon in the summer of 1964, upon his retirement. Frank had been a deputy US Marshal for 23 years and was a past president of the US Marshals Association for the 9th Region.
In Vista, he became interested in civic matters. He helped organize Vista Drug Education Week and became a member of the drug abuse subcommittee of the Comprehensive Health Planning Association of San Diego and Imperial Counties.
He was appointed to a five-man drug abuse advisory commission by the San Diego County Board of Supervisors and became vice chairman of the advisory committee in 1968. He helped establish Lifeline in Vista and organize that the Vista Coordinating Council, of what he was chairman from 1969 to 1971; was a patron of the Hispano Club; secretary an active member of the Elks Lodge No. 1968 of Vista; member of the American Legion Post #365; and the Vista Masonic Lodge No. 687.