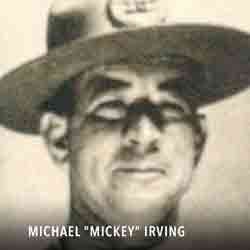 MICHAEL "MICKEY" IRVING
EARLY RESIDENTS 2011

1901-1985
Michael Irving was a member of one of Vista's pioneer family. His parents came to Vista in 1896. He was a well liked man who participated actively in civil affairs.
Irving was a Vista school bus driver for the Vista Union School District during the 1920s. In 1930, he became a constable for the County Sheriff. As a constable, he was well known as a fair man who was good at his job.
In 1936 his position was renamed to sheriff's deputy, and he had Badge Number 1. This badge is now in the San Diego County Sheriffs Department Museum.
Irving was married to Maria Etcheverry Itzaina, also a member of a historic Vista family. He also served as a member of the Vista Chapter of the American legion.