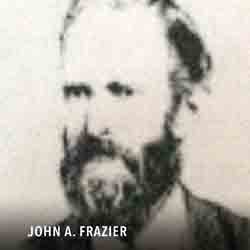 JOHN A. FRAZIER
EARLY RESIDENTS 2007
1832-1899
John Frazier was born in Rhode Island. He went to sea with his uncle at the age of thirteen. In 1881, he and his wife and six children moved to Carlsbad, where he was one of those instrumental in founding what became the Carlsbad Spa.
Sometime in 1882, he moved to Vista at least part-time. He lived on what is now Vista Village Drive, west of Santa Fe Avenue. He applied for a post office in September 1882. At that time, the closet post offices were in Encinitas or by San Luis Rey Mission in a town named San Luis Rey.
Creation of a post office at the time named the area, so he applied for Frazier's Crossing as the name for the community. The name was rejected, as there already was a Frazier in California. The name Buena Vista was also rejected. Vista was the name finally permitted and Mr. Frazier became the first postmaster in October 1882. He held post until November 1886.