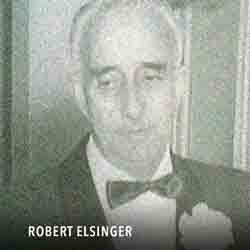 ROBERT ELSINGER
EARLY RESIDENTS 2013

1896-1978
Robert Elsinger was born to Sarah Fuiks and Sol Elsinger on June 6, 1896, in Minnesota. Shortly after his birth, the family moved to Fargo, North Dakota, and then his father moved to Azusa prior to the 1920's; and grew oranges.
Robert followed his family to California in the mid-1920's and became a farmer. He moved to North San Diego County in 1926, and while in Vista, he met and married Myrna Ryerson. Robert Elsinger budded many avocado groves in Escondido, Fallbrook and Vista.
He established one of the first packing plants in Escondido and brought, packed and shipped avocados and limes. His business was located at 121 North Santa Fe Avenue, directly across from the original location of the Santa Fe Railroad depot. At one time he owned the old landmark, "Red Barn" on the corner of North Santa Fe Avenue and Jefferson Street.
He also had a subsidiary packing shed on the railroad at Buena. Robert was a veteran of World War I; one of he original members of the American Legion; a member of Vista Elks Lodge # 1968; and a member of the Vista Optimist Club.
On January 26, 1964, he received a Good Citizenship Medal from the San Diego Sons of the American Revolution for his "patriotism, community service and public spiritedness." He had three children, Diane Eckert, Nanette Marvin, and Robert Elsinger.