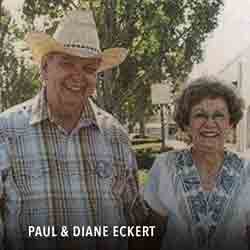 PAUL & DIANE ECKERT
REGULAR DIVISION 2014

Very few people can say they know Vista as well as Diane and Paul Eckert. Diane's parents, Robert and Myrna Elsinger, had been residents of Vista since before she was born, and in 1950, Paul's parents settled here while Paul stayed with an uncle in Lawndale, California, to finish high school.
After Paul graduated high school he relocated to join his parents. In May, 1953, they started Eckert & Son's Moving & Storage located at 621 S. Santa Fe Ave., Vista, CA in May 1953. Diane, maiden name Elsinger, finished high school in Vista and went off to Stephens College in Missouri. Upon her return after graduation in June of 1954, she attended the Vistacado Fair where she and Paul met for the first time.
Vista was a small, yet close knit community with about 8,500 people. Now, decades later, the population in this town has grown to over 120,000! "I loved it so much when Vista was a little town, you knew everyone," Diane recalls. Paul says, "We used to do all kinds of things, including the last Vistacado Fair." He also remembers putting up all the Christmas decorations in downtown Vista, sponsoring a book drive for the branch library, and coloring 1500 eggs for the egg hunt.
Paul and Diane went on to have two children, Robert and Paula, who grew up to have professions and families of their own, including six wonderful grandchildren and now five great-grandchildren for Paul and Diane. Robert and Paula eventually decided to join Paul in running the moving business and continue to work in the office keeping it a family-run operation.
Paul's public service career began when he joined the Vista Junior Chamber of Commerce, and Diane joined the Jaycees' wives' group. They both became actively involved with the local Elks Club and with the Boys and Girls Club, formally known as the Boys Club. Paul was involved in the Sam Marcos Rotary Club as well. Together over the course of six months Paul and Diane campaign for Paul's election to the County Board of Supervisors in 1978, where he went on to serve eight years.
Paul remembers one of the highlights of that time "Diane and I were invited to have cocktails with Queen Elizabeth and Prince Philip on their yacht in the San Diego Harbor! He also recalls a personal invitation along with 200 others, including then San Diego Mayor Bill Cleator, to the White House during the Ronald Reagan administration and having coffee and rolls in the East Room. "You've got to be impressed," he exclaimed.
Looking back, Paul is proud to say he was involved with the county's "Workfare," a work-for-welfare program instituted in San Diego at the time, but is still being utilized in some areas today. After serving on the County Board of Supervisors, he returned to be involved in the Vista community. Diane was president of the Vista Historical Society from 2003 to 2009 and quickly put Pat to work. Paul negotiated with the City of Vista to get the Rancho Minerva house for the Historical Society and went to work refurbishing it. The previous owners, Huntalas's, have since formally made Paul an honorary member of the Huntalas family. Paul was president of the Vista Historical Society when they opened the museum in Rancho Minerva in 2009.
More recently, Paul has been involved with a Christian healing center at Branches of the Cross Angelica Church in Vista, saying "It will be tremendous access to our community." He also continues to have the Boys and Girls Club, being responsible for building it's new kitchen, dining room, teen room and several offices.