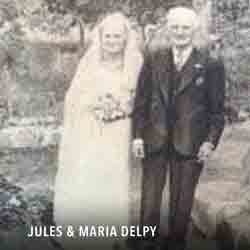 JULES & MARIA DELPY
REGULAR DIVISION 1995
Jules Delpy1866-1959
Maria Delpy 1877-1981
The Delpy family first arrived in Vista in 1873. Bernard Delpy started a successful winery in the area later known as Delpy's Corners. His nephew, Jules Jacques Delpy, arrived from Southern France in 1879 to help work in the winery.
In 1894, Jules married Maria, also from Southern France, in Los Angeles. They arrived in Vista a few days later. The Delpys had many "firsts" in Vista; the first car, the first phonograph and one of the earliest schools.
Travelers often stayed at the Delpy home since no hotels existed in Vista at the time. Jules and Maria were successful farmers and very influential in the development of early Vista, including the formation of the Vista School District and the Vista Irrigation District.