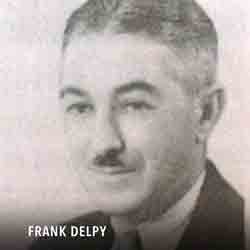 FRANK B. DELPY
EARLY RESIDENTS 2009
1896-1948
Frank Delpy was born January 26, 1896, at the Vista Delpy Ranch, the second son of Jules J. and Maria Delpy. He lived in Vista all his life. He attended Vista schools and graduated from Oceanside High. There was no high school in Vista at the time.
He married Elena Rose Itzaina (née Helen Itzaina), daughter of Jean Baptiste and Maria Itzaina, on December 7, 1919. He has two children, Jacqueline and Frank Junior.
He was the first Vista Irrigation District Assessor, Tax Collector and Treasurer, an elected position that he held until his death at the office on June 8, 1948.
A World War I veteran, he was a member of the B.P.O.E., Chamber of Commerce and the American Legion. During his tenure at the Vista irrigation District, with his leadership and assistance the district was able to create, improve and assure the area water supply, thus enabling the agricultural industry to thrive in Vista.