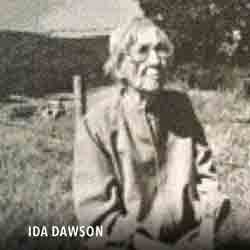 IDA DAWSON
REGULAR DIVISION 1989
1901-1996
Ida Dawson was the daughter of pioneers Emma Kelly and Hamilton Squires. She attended San Diego State University and Stamford University.
She taught school locally and in Seattle. On March 23, 1931, she married Clarence Dawson. In 1946, they moved to Rancho Agua Hedionda y Los Monos, where she owned some of the original land grant acreage.They raised cattle for several years.
She gave over 130 acres in the Dawson Y Los Monos Canyon Reserve to the University of California system for research and teaching.