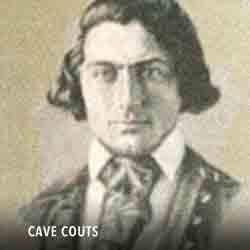 CAVE COUTS
EARLY RESIDENTS 2007
Cave Johnson Couts was born near Springfield, Tennessee, on November 11, 1821. In 1838, he received an appointment to West Point and graduated in 1843. He served on the frontier and then at Los Angeles, San Luis Rey and San Diego from 1848 to 1851.
He was over six feet tall and weighed 165 pounds, and was known as a man of good education, strict integrity, and gentlemanly manners. On April 5, 1851, he married Ysidora Bandini of San Diego. They had ten children. In October 1851, he resigned from the army and was appointed colonel and aide-de-camp on the staff of Governor Bigler.
He was a member of the first Grand Jury in September 1850, and became county judge in 1854. In 1853, he moved to a tract known as the Guajome grant, a wedding gift to his wife from her brother-in-law, Abel Stearns. He became one of the wealthiest men in Southern California.
Couts purchased the San Marcos, Buena Vista and La Jolla ranchos, and also government land, amounting to about 20,000 acres. He died at the Horton House in San Diego on June 10, 1874. The Rancho remained in family hands until it was sold to San Diego County for a park in the 1970's.