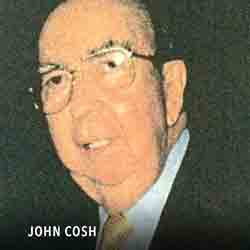 JOHN M. COSH
REGULAR DIVISION 1989
John Cosh arrived in Vista with his family in 1925 from Canada, along with the Ormsby family. Cosh and his family have supported Vista and the surrounding communities ever since.
John Cosh was a longtime banker in the Vista area. He assisted in the founding of the Tri-City Hospital District and was a director for eight years and president in 1974.
He was founding president and organizer of the Boys' Club and Chairperson of many fundraisers for charitable organizations. He also helped develop Brengle Terrace Park.