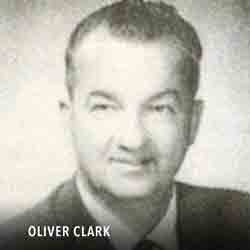 OLIVER CLARK
REGULAR DIVISION 2010
1917-2006

A native of Iowa, Oliver Clark and his wife, Helen came to Vista in 1941. He started Clark's Floor Coverings, Inc, in 1946. He served 22 years on the Vista Irrigation District board of directors.
He also was a director of the Vista Chamber of Commerce for many years and holder of four Chamber awards – in 1956, 1958, 1963 and 1966.
Clark was a charter member of the Kiwanis Club of Vista and served as president in 1953. He was a Chancellor Commander, Knights of Pythias Themis 146, Escondido. He served as president of the San Diego Floor Covering Association (two terms), and he was elected to the Hall of Fame of the Floor Covering Association in 1976.
He was also a director of Chartered Bank of London, California Division, from 1964 to 1980. He was a member of the Vista Historical Society and several other organizations. He and his wife had three children; Carol Anne, Oliver R. Clark Jr., and Alan Lee Clark.