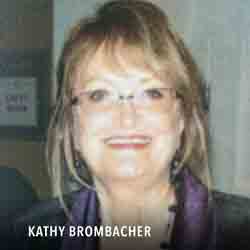 KATHY BROMBACHER
REGULAR DIVISION 2010

Kathy is the founder of the Moonlight Stage Production summer season at the Moonlight Amphitheater and the winter season at the Avo Playhouse. Since founding of the theater in 1981, she has helmed its artistic vision; today it is recognized as one of San Diego County's major arts organizations.
The theater's artistic successes have been recognized by such organizations as the San Diego Theatre Critics Circle, the Patte Awards for the Theatrical Excellence, the Robby Awards, and the Billie Awards. Some of the awards the theater has received from these organizations include Best Direction, Best Ensemble, Best Choreography, and Best Set Design, among others.
Under Kathy's vision, the theatre has nurtured many theatrical artists and administrators who began their careers at the Moonlight and have gone on to work with other major art organizations and entertainment companies throughout the United States. Having established an artistic base that serves all of the San Diego County, Moonlight Stage Production winter seasons have grown artistically each year with the support of the National Endowment for the Arts, which has provided grants in support of three productions, Arms and the Man, The Most Happy Fella, and recently the critically acclaimed Ring Around the Moon.
Kathy has produced and/or directed more than 150 shows at Moonlight Stage Productions in the last 30 years. She has seen major milestones during her tenure at Moonlight Stage Production. In 2009, the completion of the new Moonlight Amphitheater stage house, constructed in just nine months, was a 20-year dream realized by the City of Vista. The City's renovation of the Avo Playhouse, from a movie theater originally opened in 1948 to a venue hosting the Moonlight's winter seasons as well as numerous rental events, was another milestone in community support.
As a long time employee of the City of Vista, Kathy has been recognized as Management Employee of the Year as well as receiving awards and recognition from the California Women in Government for distinguished work; Soroptimists International of Oceanside for work which enhances the community; was named one of the "50 People to Watch" by North County Magazine; received the Craig Noel Award for Theatrical Trailblazer by the San Diego Theater Critics Circle; and the Shirley Lifetime Achievement Award from the Patte Awards for Theatrical Excellence in 2006. A long time resident of Vista, she is married to Robert C. Brombacher, D.D.S. She holds a BA degree in Theater Arts from the University of Redlands and an MFA degree in acting, and prior to finding the Moonlight Stage Productions was a theater and music educator in the Vista Unified School District.