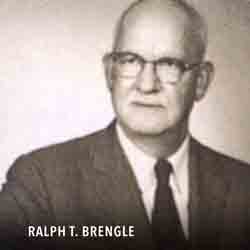 RALPH T. BRENGLE
EARLY RESIDENTS 2009

1894-1971
Ralph Brengle was a retired industrialist and a native of Orleans, located in the Nob Hills Country of Indiana. He served in the United States Navy and World War I, being discharged as a Lieutenant Junior Grade.
In World War II, he was a Lieutenant Commander in the Navy. After the war, he organized Ralph T. Brengle Sales Company in Princeton, Indiana. At one time he own three shopping centers in Chicago. Mr. and Mrs. Brengle came to Vista on his retirement in 1961.
He donated funds to the Vista Boys' Club for a gymnasium, and gave 39 acres to the City of Vista with which Brengle Terrace Park was established. The Brengle's were honored February 21, 1971, at the dedication of the 13,000 square-foot boys and girls club gymnasium. Orbee Mihalek, Mayor of Vista, proclaimed "Ralph T. Brengle Day."
Mr. Brengle had given away around $1 million for worthy causes before coming to Vista, including funds to the College of Vincennes for a close TV station; funds to Gibson General Hospital; and a science building for the Oakland City College. He was a member of the Rotary Club and the Military Order of the World Wars, San Diego Chapter.