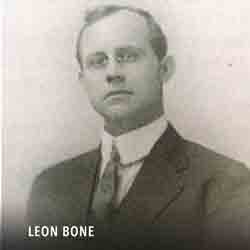 LEON BONE
EARLY RESIDENTS 2013
1874-1962
Leon Bone, always known as Judge Bone in Vista, was a man of many talents. In addition to his legal expertise, he was a prolific poet and author. The Vista Historical Society is fortunate to have the original manuscript of Day Dreams, his book of original poems, and several hard copies of his science fiction novel, Naomi, Daughter of Ruth, published in 1952.
Born in Vandalia, Illinois, on March 22, 1874, Bone attended Austin college in Effingham, Illinois, for one year and was secretary and vice president of the debating team. He then taught elementary school for four years and graduated from the Gem City Business College in Quincy, Illinois.
Bone moved on to George Washington University, determined to obtain his law degree, and graduated with the law class of 1905. While there, he served as president of the university's Needham Debating Society.
The Vista Historical Society's original copy of the University news magazine, The University Hatchet, dated December 21, 1904, congratulates bone on being a major force on the debating team: "He is a forceful speaker and his earnestness in the presentation of his argument carries conviction with it." He was described as an "indefatigable worker" at research who made "remarkable strides" in debating well at GWU. Bone's given name was Leonie, later shortened to Leon. Judge Bone was married to his wife, Cora, for 53 years. The couple had two children, Victor and Velma. Several of his descendants still reside in the area.
The United States Federal Bureau of Investigation (FBI) was formed in 1910, and Bone became one of the organizations first agents the following year. He was closely involved with the investigation and capture of such notorious criminals as John Dillinger, Pretty Boy Floyd and Machine Gun Kelly. The Historical Society has on display a letter dated November 20, 1936, from J. Edgar Hoover, then head of the FBI, thanking him for his quarter-century of service as a special agent. Bone remained personal friends with Hoover over the ensuing years.
Early in World War II, Bone was called back for duty as a senior investigator for the Army Air Force. From 1944, until he passed away at his Vista home in June 1962, at age 88, Judge Bone presided over the Vista branch of the Justice Court of California. Evidence of his popularity was a report in the Vista Press on June 3, 1958, that he was reelected to the Vista Judicial court at age 84 with the vote of 2,326; his nearest competitor had 810 votes. Judge Bone wrote poetry for more than 40 years. The original manuscript of his poetry book, "Day Dreams", is on exhibit at the Vista Historical Society Museum at Rancho Minerva. It demonstrates the heart and philosophy of the "inner man" that contemplated Leon Bone's legal talents.