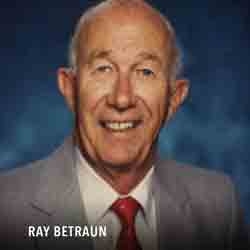 RAY BETRAUN
EARLY RESIDENTS 2018

1923-1991


Early Vistans knew that securing a reliable source of water was vital to the growth of their burgeoning agricultural community. Those early pioneers worked tirelessly to ensure their community had water for their crops, their families and for future generations. From forming the Vista Irrigation District (VID) to purchasing Lake Henshaw, community leaders searched for a secure water supply that would meet current and future resource demands. Ray Betraun embodied that community spirit and his contributions to Vista are still felt to this day.
Ray Betraun was born in Buffalo, New York on Christmas Day in 1923 and he moved with his family to Vista as a young boy in 1929. He grew up in Vista and graduated Class of 1942 from Vista High School. Ray went on to major in Mechanical Engineering at the University of Texas and then joined the U.S. Navy, proudly serving as part of a submarine fleet in World War II.
After his military service, Ray returned to Vista to build a life. He married Shirley Wilkinson in 1948 and they had two daughters, Vicki and Jana. Ray worked with his father and brothers at the family construction business, A.E. Betraun & Sons Construction Company, building many community buildings in Vista, including the former Vista Irrigation District headquarters located at 202 West Connecticut Avenue. After his father retired, Ray continued the family business as Betraun Construction Company.
Ray valued civic duty. He and Shirley were very active with the Vista Historical Society throughout their lives. Ray was also President and State Director of the Vista Jr. Chamber of Commerce, a Buena Colorado Municipal Water District board member, and a Liberty National Bank board member for 10 years.
Ray was elected to the VID Board of Directors in 1973. He was a VID Director for 18 years, serving as the President of the Board from 1986 to 1991. Ray served on the VID Board during a period of growth and development, overseeing the completion of the Escondido-Vista Water Filtration Plant at Dixon Reservoir in 1976, the relocation of the 20 million gallon Pechstein Reservoir in 1978, upgrades to portions of the Vista Flume during the 1980s and major renovations of the Lake Henshaw dam in 1981. He was also instrumental in preventing Blue Canyon Landfill from being located near Lake Henshaw, thus protecting VID's groundwater supply for many generations.
Ray was also a member of "Vistans for Water Committee" and helped Vista navigate through the early years of the 1990's drought.
Ray passed away in May 1991. He will long be remembered for his record of commitment to his community and his public spirited dedication, including safeguarding Vista's local water sources and ensuring a reliable water supply for his community he loved so dearly.