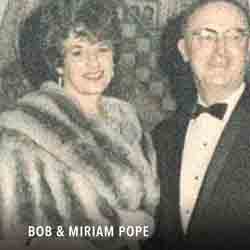 BOB & MIRIAM POPE
REGULAR DIVISION 2000

Bob 1914-2004
Miriam 1912-1996
The Popes moved to Vista in 1952. They owned Sports & Photo from 1954 to 1979. The Popes also owned a chinchilla ranch in the 1950s. Bob Pope, a graduate of the University of Marquette Law School, taught in Vista, Fallbrook and Escondido high schools. He was president of North County Community Theatre, Vista Kiwanis, Boys' Club and the Vista 60-Plus Club. He was a board member and trustee of Vista Elks Lodge and board member of the Vista Historical Society.
Miriam Pope was born in Cleveland. She and Bob married in 1937. After moving to Vista, she helped found the Boys' Club of Vista, now Boys and Girls Club.
Mrs. Pope was active in the Vista Woman's Club, the Parent Teachers Association and the Women's Auxiliary of the Vista Chamber of Commerce, and was chairwoman of the Vista Parks and Recreation Commission.