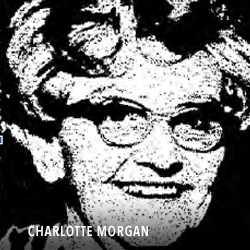 CHARLOTTE MORGAN
EARLY RESIDENTS 2015

1892-1972
"Vista has lost a true friend and faithful citizen... one who never talked about what should be done, but one who got in and did it. It will be hard to part with someone like this who has given so much of herself to so many people" said Mayor Orbee Mihalek.
Mrs. Morgan, who lived with her husband, Jack, at 164 Walker Way, was interested in the beautification of Vista, the development of a park system, and in upgrading in any way the appearance of our city.
"I have enjoyed a long friendship with Cleo and Jack, one that from the very beginning was full of respect and admiration. Respect for her as a competent business-woman, and admiration for her beautiful attitude towards life and her fellow man. Surely, heaven will glow with her presence," said Vice-Mayor Kenneth Annin.
"The passing of Cleo Morgan is without a doubt a great loss to our community. Her achievements are ex-amples of a truly outstanding citizen – one who not only dedicated her time and energy to the beautification of our city, but who was firm in her belief that Vista is truly 'the most beautiful place to live'. Her expression of such con-viction was evident by the work she alone performed and projects of beautification which she initiated. Her loss will be felt throughout the community," said Councilman Troy Doan.
Mrs. Morgan is also survived by sons, Upton Smith of Long Beach; Malloy Souberg, of Glendale; a daughter, Mrs. La Vanda Tilt, of Escondido; and 13 grand-children and 24 great-grandchildren.
"She has been a forerunner in community life. She had an appreciation for Vista that few people had. Vista will miss her greatly," said Councilman Noble Tanner.
Mrs. Morgan was president of the Vista Garden Club for two terms. She was a member of the Woman's Club of Vista; a member of the Second Horizon Club; the Grandmothers' Club; an active force in the Vista Beautiful Committee; a member of the chamber of commerce; a for-mer Grange member; a former member of the Rebekahs; a member of the Palomar Cactus Association and a member of the California Cactus Grower Association.
"We have lost a very dedicated citizen who al-ways strove for the betterment of Vista," said Councilman Stanley Matush.
Philip Ferguson, chairman of Vista Beautiful, said: "Without a doubt she's contributed as much or more than anyone else to the actual beautification of Vista. Both Vista Beautiful and Vista are better because of her ef-forts."
Vista now wears like a garment the beauty of her efforts.