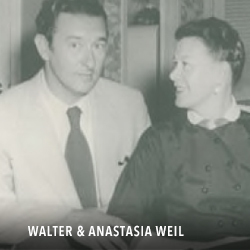 WALTER & ANASTASIA WEIL
EARLY RESIDENTS 2007
Walter 1905-1977
Early Residents 2007
Anastasia 1911-2006
Regular Division 1995
Walter J. Weil, noted eye physician-surgeon, was born in Prague, Czechoslovakia. Mrs. Weil, nee Anastasia Gardiner, was born in Scotland.
Dr. Weil and Anastasia Gardiner were married in London in 1940. He opened his eye clinic in Toluca Lake, Cali-fornia, where he practiced for over thirty years. He was on the staff of St. Joseph's Hospital in Burbank and was the first eye surgeon in the San Fernando Valley.
The Weils purchased Rancho Buena Vista from Frederick Reid in 1957. They built a medical center on the property, on Escondido Avenue adjacent to Wild-wood Park. The Weils lived at Rancho Buena Vista until 1973, when it was sold for $100,000.
Dr. Weil, in addition to being proficient in several languages, was a talented musician, playing the piano, violin and guitar. He was a co-founder of Vista Historical Society, and both he and Mrs. Weil were charter directors of the organization.
Anastasia was a dedicated member of the Tri-City Medical Center Foundation. She offered artifacts to Mission San Luis Rey and was also a generous donor to Scripps Memorial Hospital.