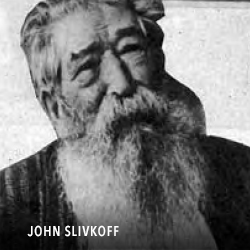 JOHN SLIVKOFF
EARLY RESIDENTS 2013

1891-1984
The Slivkoff family was loved and ad-mired by the Vista community for almost seven decades. A Russian immigrant, John arrived in the United States in 1911 with his parents, four brothers and two sisters.
In 1917, he came to Vista with his new wife, Mary, and farmed on land leased from early settler, Jules Jacques Delpy. Along with his own farming endeavors, he helped the Delpys with the experimental growing of avo-cado trees, a unique and profitable crop that would later make Vista the Avocado Capital of the World.
Mary came to America with her family separately, but when they met they found they had live in Russian towns only a few miles apart. They were married on December 24, 1915, a union that thrived for almost 70 years.
The Slivkoffs had four children, John Jr., James, Sarah, and George, a bomber pilot who was killed during World War II when his plane was shot down over Germany.
Over the years, the Slivkoff family sup-ported, and often participated in, countless worthwhile endeavors in their chosen commu-nity.
John worked hard all his life, and en-joyed putting in a full day until late into his 80's. At one point in the early years, he sup-plemented his farming income by buying a baler and charging $2.00 a ton as he baled hay throughout North San Diego County.
He said that he was proud of having been able to support his family over all the years, "in good times and bad."
By 1926, he was able to buy his own six and one-half acre ranch at the top of San Clemente Avenue. He built his home and barn himself, and he and Mary lived there for the rest of their lives, greatly enjoying the large family gatherings of their children, grandchil-dren and great-grandchildren.
John raised mainly avocados, limes and vegetables. He also was a noted beekeeper for many years, with as many as 60 hives at one time.
Various publications featured photos of the red-flowered trumpet vine that grew com-pletely over the barn and additional out-building on the property. The vine had been planted by their son, George, in 1932, and was a happy reminder of him after his death in World War II.
John Slivkoff was noted for his sense of humor and good disposition. He had a long, flow-ing beard for almost a half-century, and said that he won "every beard contest" over the years.
He often came to The Vista Press to visit Publisher Everett Remsburg, until Everett's death in early 1972. The two had been fast friends from the arrival in Vista of Everett and his father, M.Z., in 1926, when they started Vista's first newspaper.
John helped unload and set up the typeset-ting and printing equipment for the fledgling newspaper, and although he struggled financially in those early years, he refused any pay. M.Z. gave him the only lifetime subscription to The Vista Press in its long history, and John made good use of the gift.
He lived until 1984, when he passed away at age 93. As he retired, John Slivkoff passed along his remaining beehives, with a special blessing, to his grandson, Rex Christensen. With his wife, Pat, Rex has property off Buena Creek Road in Vista and is one of the few remaining beekeepers in North County.