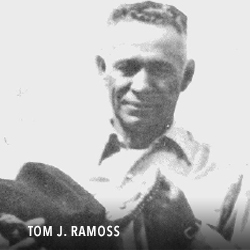 TOM J. RAMOSS
EARLY RESIDENTS 2013

1905-1982
Tom Ramoss was a fifth generation Californian, born in San Juan Capistrano in 1905. He was baptized in the Old Mission Church and later served there as an altar boy.
In 1922, at age 17, Tom went to work as a wrangler on the 100,000-acre- plus Santa Marga-rita ranch. His job included handling a remuda of 300 horses, readying them for the dozens of vaqueros employed there at the time who generally had 50,000 cattle and thousands of horses to work.
Tom toughed the wrangling job out for some three months before he was promoted to vaquero. In time, because of his having steeped himself in the Spanish tradition of handling horses, com-bined with a gentleness and singleness of purpose, he was to become one of the best and most re-spected reinsmen in the business. When the Fed-eral Government acquired the Santa Margarita ranch in 1942 for the Marine Corps and turned it into Camp Pendleton, Tom stayed on, taking over the riding stables, the horse-shoeing, blacksmith-ing, etc.
It was there he met his future wife, Patricia Kay, a lady Marine from Boston, Massachusetts. Pat knew horses and was a horsewoman herself. In addition, she was a great admirer of the era in California history which Tom and his Spanish ancestors exemplified, so they had much in common.
n 1947, after their marriage, they moved to Vista. Tom, who had shoed his first horse at 14, established a horse ranch, specializing in cham-pion-class Arabians, in which he was successful. He also put in a blacksmith and horseshoeing shop.
He was a great horse trainer who used an inherent gentleness and patience with the animals. He often spent a year or more on horses he was training, first accustoming them to control with a simple hackamore to guide them, sometimes for months, be-fore a bit was put in their mouths. The Spanish bit, Tom said, should only be entrusted to special hands and placed in the mouths of special horses. The "finished" horse was expected to cut cattle as well as execute necessary movements and specifications. Re-markably, Tom was able to teach his art to others, and the horse world is much richer for this shared talent.
Tom rode in the first "Western" motion picture to receive an Oscar: "In Old Arizona," starring Mary Astor and Warner Baxter. He rode in the Tournament of Roses Parade in Pasadena and in the 1932 Olympics. An expert calf roper, he won the California State Championship in the early 1930's.
Tom Ramoss was a skilled horseman, riding in the Californio style. Upon moving to Vista Tom and his wife became life members of The Vista Palomar Riders Club. He was an integral part of The Vista Palomar Riders until his death, serving two times as president of the group and multi-ple terms as a board member, and multiple times as commit-tee member and "Trail Boss" for the club's five-day, 100-mile ride from Vista to Palomar Mountain and back.
He was not only an outstanding horseman but a gen-erous individual who donated time as a judge for the Vista Palomar Junior riders, local 4H and other area junior horse groups. Horse people in the Vista area often called on Tom for advice when they were having trouble with their horses or for actual help with the animals including getting horses in the trailer.
He was also a Life Member of Caballeros del Camino Real, and an Honorary member of the Desert Arabian Horse Association.
He had a "flour sack full of ribbons and awards." Tom Ramoss was an artist on horseback-a California Reinsman.
He died August 10, 1982. His coffin was carried on a wagon drawn by two Clydesdale horses and driven by long-time friend Frank Lo-pez and accompanied by a large procession of friends.
He was interred with his boots, spurs, bits and some of the iron and steel tangibles of his pro-fession. but he left a priceless bit of golden California history for posterity.