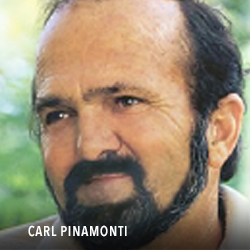 CARL PINAMONTI
REGULAR DIVISION 2014

1928-2009
Carl was born in 1928 in Inglewood CA. At age 18, he began his family and had seven children Ernie, Maryann, Toni, Carl, Gina, Patrick and Enrico. He got his construction start in the plastering business and ulti-mately became a general contractor. During the Vietnam War in 1969, the family battled it's largest tragedy, the death of their eldest brother and son, Ernie.
Emerging from heartbreak, and with high hopes to retire, Carl made the trip down to Vista in the early summer of 1970. But grandpa, being grandpa couldn't retire yet, so he continued his construction business. He purchased 9 acres off of Monte Vista Dr, and traveled down every weekend with some of the kids to create his first family home. He completed it within 3 months and the kids were able to attend school in the fall. The whole family moved in Sept 1970 and officially made Vista home.
With no retirement in sight, grandpa began his relationship with the City of Vista. With only one traffic light standing at the time, his first project purchase was 6 acres next door to the old McMahon Furniture Store off of Santa Fe. There, he developed the Franciscan Inn. After building the Inn he moved into Room 48 and used it as his first office. Every morning at 5 am he would meet at Mayfair Market with friends and other contractors. Joe Garassi, was with him every morning. Joe worked with Carl for many years as his superintendent. The Mayfair market would be the place to hash out his next project, Carrow's Restaurant.
After the completion of the restaurant, he moved his temporary office at the Inn to one off of Eucalyptus Dr. This was in fact his first true Vista of-fice. In July 1974 the Mayor of Vista, asked the Cham-ber of Commerce to develop a meaningful program to celebrate our nations birthday in 1976. As a result, the Bicentennial Committee was created consisting of 28 committees. Carl was Chairman of the Development Committee that would oversee the Bicentennial Project. The Committee approved the original amphitheater and Grandpa proceeded to make it happen.
If you know my grandpa, there was nothing big or small that would stand in his way. Carl proceeded to encourage the donation of material and labor and he followed it to a successful com-pletion. He continued to donate after it was built. He thenbegan to build houses around the city and many other commercial projects. He eventually made his way to other neighboring cities, and worked with his brother, Al Pinamonti on many projects.
Throughout the course of his construction career, he became very well known with Vista city building offi-cials. If any of you knew him, you knew he loved attend-ing city council meetings, and interacting with city offi-cials. I mean he was a businessman, so he definitely de-bated with a few.
If you ever needed Carl for anything during the day, you knew where his lunchtime office was. He sat at his favorite table at Feliccia's Restaurant. He would hash out business deals on the paper tablecloths and many of-fers were made there. I can remember when my cousins and I had half days at St. Francis middle school. We knew we were going to Feliccia's for lunch to see grandpa. It just felt like home.
In the early 80's, grandpa had his cancer surgery and they removed his Larynx. Carl was definitely known to voice his opinion and in just one day his speech was taken from him. It took him one year of voice therapy just to get out one word. My cousins and I grew up with him this way and never heard his normal voice. I always wondered what he sounded like. It was a constant strug-gle to understand him, but it didn't damper his lifestyle, because he began to clap and pound on the table to get your attention. He sure did mean business.
Everyone knew Carl for his generosity with his time and money. He loved to help out small builders and therefore loaned money to these businesses to allow them to get their starts. These small acts of kindness played a role in impacting other business owners of Vista. He do-nated to the Vista Boys Club and was involved in the start of Vista Pop Warner.
If I have one vivid memory of my grandfather's character, it was that he was extremely hardworking, honest, and trustworthy. He ended up working into the 2000s even though he thought of retiring in the 70s. He was the guy known for paying all the trades on time and within days of them submitting bills. If you did the job correctly, you got promptly paid. He was also the grand-father that would donate to any activity that his grand-child was a part of. He was honest and loyal and for that, he was graced with loyal employees.
Betty Stevenson eventually followed him down from Hawthorne and be-came his office secretary. Frank Dvorak met him in Vista and started as the office Manager in the Eucalyptus office and eventually became a City Inspector. One of the few still working for the family today is Beverly Mottino from Vista and that's just to name a few. Eventually, many of his Italian friends had joined him in Vista and also became established in Vista.
One dream he never saw to completion was the Vietnam Memorial Park, named "Ernie's Place" after his late son. Grandpa donated land off of Mercantile and Guajome to be built into this special park. The park has been relocated onto the Corner across from Main St and associ-ated with the new Paseo Santa Fe projec, a great reminder of all of our service men who fought in Vietnam.