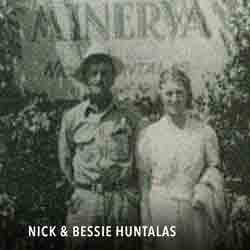 NICK & BESSIE HUNTALAS
EARLY RESIDENTS 2011

Nick Huntalas emigrated from the village of Kadilla, Greece, to the United States in 1902. He traveled as far west as he could and ended up in Chico, a little village north of San Francisco. He remembered arriving very hungry and walking up to an orange packing house. He asked the workers for some oranges to eat, but they turned him away. Behind the building he found a pile of discarded fruit and gorged himself. He survived on oranges for a week. At this point, he was very grateful for his luck and mused that someday he would grow lots of oranges.
His first job was as a laborer for the Southern Pacific Railroad in Bakersfield. With the help of a friend named Frank Barkholder, Nick learned English and advanced at his job. In 1911, a group of Nicholas's friends got to-gether to form the Greek American Land Company. Huntalas became the vice president. They pooled what little money they had saved to invest in land. With this money, they went to a real estate broker from Los Angeles who drove them down to Vista, where they bought 420 acres of land. They leased the land to local ranchers, who used it to graze their cattle. Nick believed that Vista was the best place in California. So when one by one the other investors sold their portion of the acreage, he bought most of it.
In 1916, Huntalas decided to get married. As was common for Greeks, he made plans to go back to Greece to find a bride. He had been writing to a cousin he had never met in Patterson, New Jersey She asked him, on his way to Greece, to stop by and visit her as well as meet a friend. When Nick met the friend, whose name was Bessie, they fell in love. In three days they were mar-ried and heading back to California.
Nicholas still worked for the railroad in Bakers-field, but after a year decided to quit and farm his land in Vista.
Living in Vista in 1917 meant a life of isolation and little if any modern comforts. Nicholas built a four-room house, which didn't include the luxury of electricity, plumbing or running water.
At the time, Nicholas was limited to dry-farming. He grew barley and oats when the weather was wet enough. But this crop was not very profitable. Back then, the weather was very dry. Dry-farming was the principal business, as the area's severe water shortage prohibited any extensive irrigation. By 1923, the wa-ter problem was acute.
Huntalas's water came from a deep well on his property, but he still needed additional water in order to be able to grow more profitable crops.
In 1923, Nicholas Huntalas was among the first signers of the Vista Irrigation District Water Plan for Vista. The water would come from the recently com-pleted reservoir at Lake Henshaw about 40 miles away, owned by the San Diego Water Company.
The Vista Irrigation District was formed, and irri-gation water became available in 1926.
For the Huntalas family, which now consisted of three children as well as Nick and Bessie, the availability of water made a great change in their livelihood.
With the increased supply of water, Nicholas Huntalas began to grow vegetables and plant trees. In about 1928, a new product came alive: the avocado.
Receptive to new ideas and challenges, he started his own nursery from seedlings. In 1933, Nicho-las Huntalas had over 5,000 trees, including avocados, oranges, lemons and grapefruit, Nick assisted universi-ties with the development of the tangelo and an avocado strain resistant to root rot.
While the country was in the Great Depression, the Huntalas' continued to thrive. They had a new home, Rancho Minerva, which was built in 1933. The adobe house, complete with full basement, was ready to move into in May, 1934. For the first time, the family enjoyed indoor plumbing, with hot and cold running water, an electric stove and refrigerator and even a chandelier in the living room.
Nick Huntalas and his wife, Bessie, remained at the ranch until their deaths.
Later, the remaining land was taken for a school that opened in 2007. The historic home is now the Vista Historical Society Museum.