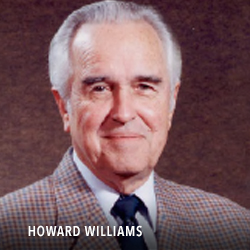 HOWARD WILLIAMS
REGULAR DIVISION 2017

Howard S. Williams was born in Phoenix, Ari-zona in December 1923. He married his wife Ann in 1946, and together they had one son, Darin. Howard is an Army Air Corps veteran, a 1948 graduate of the Univer-sity of Southern California, a long-time journalist, and a public relations expert. He had a brilliant career as a newspaper and TV editor, a local Emmy Award winner, and still to this day, a very proud Eagle Scout.
Howard worked at Channel 2, KNXT (now KCBS-TV) in Hollywood in the 1960's and 70's, where he wrote the station editorials for 12 years, and delivered them on the air in 1976. For his TV editorials, Howard won a local Emmy Award as well as six Golden Mike awards. During his journalism career, Howard attended many meetings at the White House and personally met eight different U.S. Presidents: Harry Truman, Dwight Eisenhower, John F. Kennedy, Lyndon Johnson, Richard Nixon, Gerald Ford, Jimmy Carter, and Ronald Reagan. Howard also met nearly every California Governor from 1960 to 1990.
As a strong advocate for openness and transpar-ency in government, Howard and a handful of activists in the newspaper and broadcasting media developed, and got Governor Reagan to sign, the state's open meeting law, known as the Brown Act. He and another CBS ex-ecutive founded the California Freedom of Information Committee in 1969, now known as the First Amendment Coalition, which provides a hotline for reporters statewide on First Amendment issues. An offshoot of that group was created called the Bench Bar Media Com-mittee --- and the San Diego County committee still meets, 40 years later.
Howard was instrumental in introducing cam-eras in court rooms. Cameras were not allowed in courtrooms in 1968 when the assassination of Senator Robert Kennedy took place, followed by the trial of Sirhan Sirhan. Working with the judge, Howard ran a project for all three TV networks to put a closed circuit system in the courthouse for the trial. That allowed over 100 reporters in two courtrooms to cover a trial being conducted in a courtroom that seated 50 people. The ban on cameras was lifted in California in 1984, paving the way for cameras in court rooms such as those in the Vista Courthouse. The closed circuit idea promoted by Howard was also used in federal court for terrorist trials in recent years to enable families of 9-11 victims to view portions of the proceedings in Washington and in distant states.
Following his retirement, Howard and Ann relocated from the Los Angeles area to Vista, where they purchased a home in Shadowridge. In 1991, Howard was appointed to the Vista Irrigation District Board of Directors to fill a vacancy in Division 4, and he continued to serve for nearly 22 years. Howard served as the District's representative on the San Diego County Water Authority Board for 17 years. Howard was also appointed by the San Diego County Board of Supervisors to represent the City of Vista on the Palomar Airport Advisory Committee, an ap-pointment he held for over 20 years.
During his 27 years in Vista, Howard has been a tireless and dedicated public servant. Now 92 years old, Howard still lives in Vista, where his pub-lic-spirited efforts will be remembered and appreci-ated far into the future.