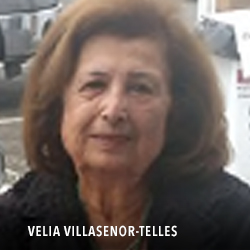 VELIA VILLASENOR-TELLES
REGULAR DIVISION 2016
Velia Villasenor-Telles is a long time resident of Vista and someone who has contributed much to the growth of Vista. She is a wife, mother, and community ac-tivist with hundreds of hours of community service to her credit.
Velia and her late husband, Chuy Villasenor, founded the Pepper Tree Frosty in 1960. The food and ice cream fare has been a favorite of Vistans for decades. The Pepper Tree Frosty has become a tradition for Vista High School alum and almost everyone else in Vista. When her husband, Chuy, passed in 1984, Velia continued to make the business a meeting place for Vista residents and con-tinued her extensive community service.
Mrs. Telles' lists of accomplishments include:
Serving as a member of the board of directors for the Vista Community Clinic.
Serving on a steering committee for redevelopment in the City of Vista.
Docent for the Rancho Guajome Adobe.
Docent for the Carlsbad Museum of Making Music. Volunteer at the San Diego Botanical Gardens in Encinitas.
Velia has always made community service part of her family life. She has been joined in many of her efforts by her children and her second husband, Rey. She has always given back because she loves Vista.
In addition to running a business and serving her community, Velia found time to raise three daughters, Chris, Lydia, & Victoria, and her "favorite "son" Danny. Chris is active with New Haven and Danny with the Boys and Girls Club of Vista. She has also been blessed with 12 grandchildren and 9 great-grandchildren.