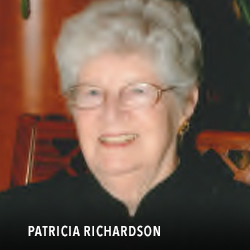 PATRICIA H. RICHARDSON
REGULAR DIVISION 2016
Pat Richardson was born in Maine to Martin John Murphy and Gladys Ethel Stapleford, and lived in Connecticut. She married Rocco Church in 1944, and had two sons. She was divorced in 1952, and moved to Vista the same year. In Vista she married Robert Porter Richardson on December 29, 1953. They had three children. When her children were in school she had several part-time jobs one of which was at Orma's Gifts. She timed her jobs to be home when her children arrived home from school.
During her over 60 years in Vista, she has volun-teered at many organizations. Chief among them is the Vista Boys and Girls Club where she is credited with helping keep the cost of membership down by her fundraising and volun-teer work. She has also received recognition for her work at Rancho Buena Vista, where she was President of the Friends of the Adobe in 1993-1994 She has also volunteered at other organizations including the Vista Historical Society, Tri-City Hospital, Vista Garden Club, Hand and Foot Club Mondays. She also belong to the Tuesday Night at the Beach Group whose membership included Claire Schwab, Emily Sexsmith, Eleanor Shinner, Barbara Gross, Cathy Brendel, Carol Lee, Janice Blosch, and Pat.
As an interesting side light, Pat re-lated the story that she and her husband picked up Debbie Reynolds and a companion from Oceanside, to take her for a fundraiser for the Mary Lou Clack Therapy Pool in Vista at the Officer's Club in Camp Pendleton. They later returned her to the Oceanside Harbor Motel. She was charming. Pat is known far and wide as a great volunteer.