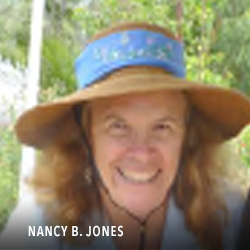 NANCY B. JONES
REGULAR DIVISION 2017
Since she retired in 2006 after 19 years of teaching first grade at Alamosa Park Elementary School, Nancy B Jones has given thousands of hours of her time and talent to various projects throughout Vista. She consulted at the school, continues working with the Green Thumb Gardening Club, and leads Earth Day field trips to Guajome Regional Park for first grade classes. Her accomplishments can be divided into three categories: Kids, Gardening, and Community.
KIDS: Nancy coordinated California School Garden Grant for Vista Unified School District, bring-ing in $63,000 for gardens at 20 elementary, middle and high schools 2007 - 2009.
For Alamosa Park first graders, she has pro-vided field trips to Guajome Regional Park for Earth Day every year since 2010.
GARDENING: As a member of the Vista Garden Club, Nancy volunteered to help teach Vista children how to garden through the VGC's gardening classes for children. She served on the executive board as treasurer and corresponding secretary. She coordi-nated the club's annual Scholarship Luncheon opportu-nity drawing 2007-2011, raising funds for horticultural college scholarships. For the club's annual free flower show, their gift to the Vista community, Mrs. Jones served as Horticulture Chairman 2008-2013 and was Ice Cream Social Chairman in 2010 and advisor in 2011-2012.
At Alta Vista Botanical Gardens, Mrs. Jones serves on the AVBG board as Director of Children's Programs where she is known as "Farmer Jones." Nancy wrote and received the grant for Incredible Edi-bles garden at AVBG and supervised the building, in-stallation, fencing and irrigation done by volunteers, 2009-2010.
Mrs. Jones founded and organized the Fall Fun Festival for AVBG 2009-present, working with com-munity members to raise donations for the Gardens. The Fall Fun Festival includes a scarecrow contest,judges, activities for children, student volunteers and certificates of appreciation. Members of The Woman's Club of Vista volunteer at these outdoor events, where children are given opportunities to express creativity, appreciate nature and to learn how to grow vegetables.
She also has organized and provided chil-dren's activities for Earth Day at AVBG from 2007-present including The Woman's Club of Vista and student volunteers, and certificates of appreciation. Activities are similar to those for the Fall Fun Festi-val, with an added bonus of opportunities to learn more about the environment, recycling, and how to enjoy life out in nature. Mrs. Jones continues to lead and provide monthly Kids in the Garden classes at AVBG, promoting environmental awareness and gardening, and has taught over 3,300 children over the last seven years, with all fees paid being donated to AVBG. This includes field trips for Scouts, ele-mentary classes, homeschool and charter school groups at AVBG. She supervised volunteers for workdays at AVBG: high school and community college students earning their Community Service hours 2009-present. She led fundraising to bring the Ricardo Breceda "Serpent" sculpture to the Children's Garden in 2016, collecting donations from Vista Mayor Judy Ritter, The Woman's Club of Vista, and friends of the Gardens to add to her per-sonal sponsorship.
COMMUNITY: As a member of The Woman's Club of Vista since 2009, Nancy has served as Corresponding and Recording Secretary, Newsletter and Publicity, and has brought energy and enthusiasm to her work as Club President from 2013-2017. She has volunteered with projects for local nonprofit organizations, including coordinating the Club's annual Donation Day from 2009-2013. Mrs. Jones served as Chairman for The Woman's Club of Vista's 95th anniversary celebration in 2011 and helped plan and lead the celebration for the Club's Centennial and fundraiser for scholarships in 2016.
Trained as a Literacy Tutor at Vista Library in 2006, she worked with three English learners over a 4-year period to help them earn their GEDs.
In 2012, Nancy Jones was recognized by the Boys and Girls Club of Vista, receiving their Have a Heart for Kids Award for all that she does for the children of our community.
KIDS, GARDENING, AND COMMUNITY: Mrs. Jones has managed to combine all three of these interests: She has worked with the Boys and Girls Club Torch Club kids and other volunteers doing Gar-den Groomers workdays, weeding and trimming at Alta Vista Botanical Gardens.
In 2011-2013 she led field trips for Vista Mag-net Middle School eighth graders to tour AVBG and do mulching and weeding work, 2 days with 100 kids and their teachers each day. From 2014-present she has been working with Rancho Minerva Middle School AVID students as garden mentor, teaching garden and environmental topics along with tours of the Gardens.
The Woman's Club of Vista received two "Club Creativity" Awards from the international Gen-eral Federation of Women's Clubs in 2016 for the Conservation program at AVBG and for Advocates for Children for the Gardening Club program at Ala-mosa Park Elementary School. The Club also spon-sors the "Only Losers Litter" trashwalks with the Backfence Society to clean up around Vista, bringing in "caped community crusaders" of all ages from schools and service clubs.