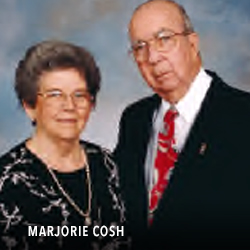 MARJORIE COSH
REGULAR DIVISION 2016
1926-2016
Marjorie Bernice Brown was born in Mesa, AZ. She was one of nine children born to Blanche & Peter Brown, an American ranching/farming family that settled in the Imperial Valley in 1929. While working in Ocean-side as an operator for Bell Telephone, she met the love of her life, John Morton Cosh, in 1948, and married him in 1952.
Marjorie was an active member of the Vista/North County community and supported many causes. Her full list of accomplishments can only be described as a lifetime of community and family service, and contin-ued to do so in her later years with the Friends of the Vista Library, the Vista Historical Society, and the Grace Presbyterian Church Women's Association.
Intelligent, organized and insightful, Marjorie gave her all to many North County organizations, taking on leadership roles, guiding meetings, and not only chair-ing events, but often using her own supplies so it would have the perfect look.
In 2011, Marjorie received the prestigious Na-tional Service to Youth Award from the Boys & Girls Clubs of America for 35 years of devoted service in supporting the organization.
As an original member of the Tri-City Hospital Women's Auxiliary (now of the Tri-City Hospital Foun-dation), in 1981, she chaired the first Baile De Esperanza charity ball. She was selected as the Outstanding Woman of the Year 1981 by the Vista Chamber of Commerce.
Past President of the VUSD School Board (1979-1983) and then representing the VUSD Personnel Commission (1985-2006), Marjorie received an Honorary Lifetime Membership by the California School Personnel Commissioners Association.
For her outstanding work as past president of both the Patrons of Palomar College and Palomar College Development Foundation she was awarded an honorary degree by Palomar College.